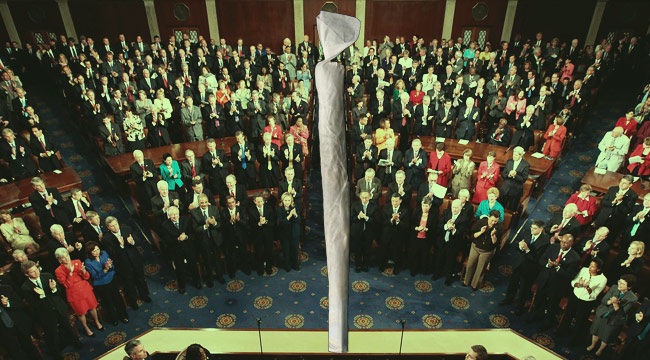 Yes, it's 4/20, and yes, the Internet is rife with weed jokes at the moment. One thing that isn't a joke, however, is today's 1st Annual Congressional Joint Session hosted by the DCMJ, a pro-cannabis group for users, growers and supporters of marijuana legalization in Washington D.C. According to the New York Daily News, group members plan on hosting the event near Capitol Hill, where members of Congress from both sides of the aisle, their staffers and interns, and credentialed members of the press are welcome to claim their two free joints — should they be 21 or older.
You'd think an event like this wouldn't be able to occur in D.C., especially since Attorney General Jeff Sessions has made cracking down on marijuana legalization and its use one of his department's top priorities. Donald Trump's administration has spoken out against the drug's recreational and medical uses — including Homeland Security Secretary John Kelly, who insists on using possession for deportation purposes. As the NYDN notes, however, "State law allows D.C. residents to possess, grow and give away marijuana, [so] the group will most likely be able to carry out the pot-smoking event without obstruction."
"Americans don't want a crackdown on legal cannabis — they want Congress to end cannabis prohibition once and for all," DCMJ co-founder Adam Eidinger said in a statement. "Giving adults access to cannabis and individuals and small business owners legal protection in all 50 states is what the American people have been asking for — just take one look at last year's election."

Encouraging elected politicians to toke up while on the job notwithstanding, the real reason for the so-called "Joint Session" is to highlight the Rohrabacher-Farr Amendment, which is set to expire on April 28th. First passed in 2014, the law prevents the federal government from interfering with state marijuana laws — including those in D.C. As progressive as the amendment was for its time, one of its stipulations requires Congress to renew it on an annual basis. And considering the current White House's attitude towards the drug's legalization — let along the similar sentiments expressed by the Republican-controlled Congress — whether or not Rohrabacher-Farr will be approved in 2017 remains to be seen.
(Via New York Daily News)