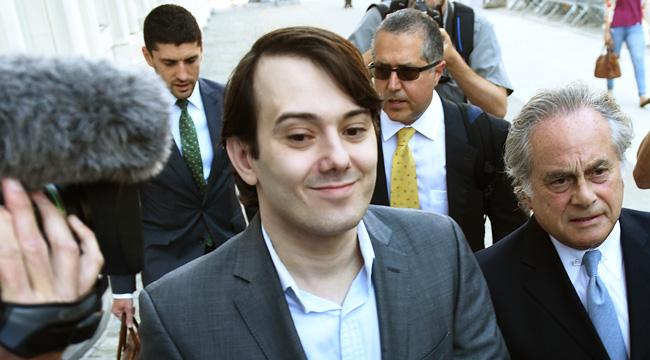 Several weeks ago, Martin "Pharma Bro" Shkreli's securities fraud case began — depending on one's perspective — ominously or gloriously when a few hundred prospective jurors couldn't move past calling him "evil" and "snake" face. However, lawyers on both sides were eventually able to piece together a group of Shkreli's so-called peers, although he continued to periodically lash out and blabber to the Internet. Well, the Brooklyn-based trial has now concluded after five days of deliberations, and Shkreli has been convicted on three (out of eight) securities fraud and conspiracy charges in relation to two mismanaged investment funds.
As a result, Shkreli could face up to 20 years behind bars. This verdict will arrive as sweet music for anyone who's despised Shkreli ever since he cranked up the price of a live-saving drug for cancer and AIDS patients. The Washington Post reveals that despite Shkreli's initial, shock-filled reaction, he's somehow seeing this as good news? Witness the confusion:
Shkreli was dressed in a short-sleeve polo shirt and shook his head in apparent disbelief when the first guilty verdict was read. His father in the front row put his head in his hands.

"We're delighted in many ways," Shkreli said outside the courtroom, saying he was glad to be exonerated on many of the charges.
Die-hard Wu-Tang fans surely won't mind seeing this verdict, given how Shkreli's been waving around his multi-million dollar purchase for years. And during his trial, Shkreli delighted in telling reporters that he could do anything while his attorney visibly recoiled in response. It looks like Shkreli was wrong.
As of right now, no date has been publicized for Shkreli's sentencing hearing. He's not likely to receive two full decades in prison (and he won't be popular in his new digs), but some people will hope for more than 20 years, given the circumstances of how Pharma Bro made his fortune…
(Via Washington Post & CNN Money)