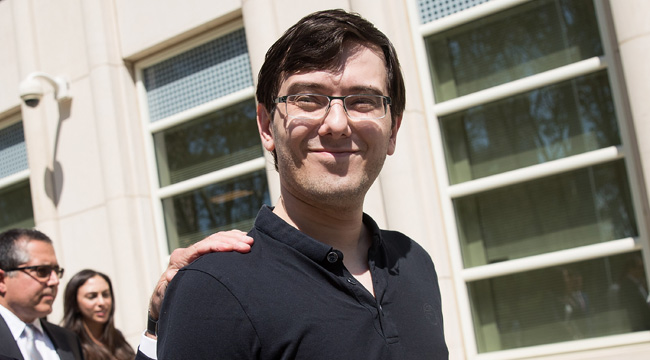 Martin "Pharma Bro" Shkreli can't catch a break. After being convicted of fraud in the summer of 2017, he had his bond revoked after threatening Hillary Clinton and may have to sell his prized possessions, including a rare Wu Tang Clan album. Shkreli's sentence wasn't expected to be too lengthy, but after a judge's ruling, he could be looking at over a decade in prison time.
Judge Kiyo Matsumoto has ruled that the crimes committed by Shkreli resulted in losses amounting to $10.4 million. Under federal sentencing guidelines, that means Shkreli would likely face a sentence of at least a decade. However, Judge Matsumoto is not bound by those guidelines when she hands down her sentence in March, but legal analysts think that Shkreli's unrepentant attitude and the large loss will lead to a sizable sentence. The amount also does not correlate to the fine Shkreli is likely to receive, too.
Prosecutors alleged that Shkreli lost between $9 million and $20 million after two hedge funds he ran went bust, and he used money from the drug company he founded to pay back investors. However, Shkreli's defense has been that, while he may have misled his investors by moving the money around (i.e., probably running a Ponzi scheme), no one actually lost any money. The judge's ruling goes against that defense.
Shkreli's lawyer recently spoke about how his client had acquired "his prison muscles" and grown a beard while in a Brooklyn detention center, but he certainly wasn't expecting his client to have more opportunities to explore these new interests.