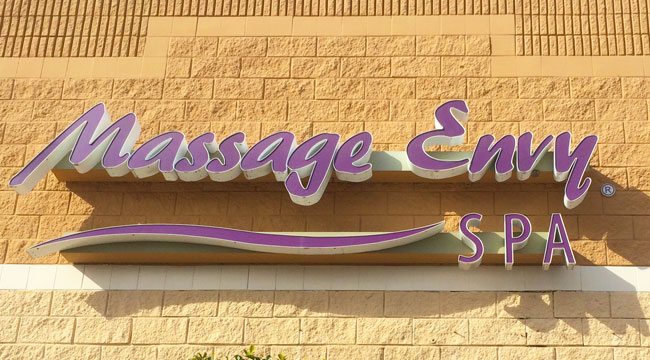 This past month has seen an endless stream of sexual assault allegations against men in power, ranging from Hollywood figures to Capitol Hill. Buzzfeed News has now published a bombshell investigative report that gathers allegations from over 180 women against male massage therapists at Massage Envy, which operates 1,200 franchise spa locations worldwide. The accusations include not only inappropriate touching and groping but also sexual assault.
The piece begins with a graphic account by Susan Ingram, who brought a claim against massage therapist James Deiter after he reportedly "ground his erect penis" against her body before "put[ting] his fingers in and out of her vagina" in 2015. Upon reporting the behavior to Massage Envy management, Ingram claims to have been greeted with bone-chilling indifference:
Ingram lay there, frozen in fear and disbelief, until the session was over. After driving home sobbing, she called the spa to report the sexual assault. She was shocked when the manager refused to interrupt the session Deiter was having with a female client, Ingram said, or to connect Ingram with the spa's owner.

"I said to her, 'Nicole, he stuck his fingers in my vagina less than an hour ago,'" she later recounted in court. She begged the manager to get Deiter's client out of the massage room immediately. "She said she could not do that, and she invited me in to talk about my services," Ingram added.
Ingram told CBS News that she felt the response sounded almost "scripted" in its impersonal nature. According to local NBC affiliate WFML, Deiter has since received prison time after pleading guilty to molesting nine women during massages. At the time of those final court proceedings, Massage Envy stated that they were "appalled that he violated the Massage Envy code and conduct and zero tolerance policy."
The Buzzfeed News report, which continues at great length, contains countless other truly horrifying allegations — in reference to several different massage therapists worldwide — from scores of women, including the following:
Dozens of women reported digital and oral penetration. One Oregon woman said her massage therapist forced his entire fist into her vagina before ejaculating in her face. In Florida, a woman said she tried to push away her massage therapist as he licked her vagina. Over 100 reported that massage therapists groped their genitals, groped their breasts, or committed other explicit violations, such as the California woman who said she opened her eyes during a prenatal massage to find her massage therapist sucking on her nipple.
Sadly, many other claims surface in Buzzfeed's report, which also touches upon Massage Envy's inability to provide much comment on the allegations for legal reasons. Many of the accusers have now sued the chain, and subsequent court records reportedly show that multiple women had complained to Massage Envy about Deiter's actions prior to Ingram's report. Regardless, Ingram noted that the spa had "enthusiastically recommended" him as a massage therapist. You can read the full investigative report here.
(Via Buzzfeed News, CBS News & WFMJ)