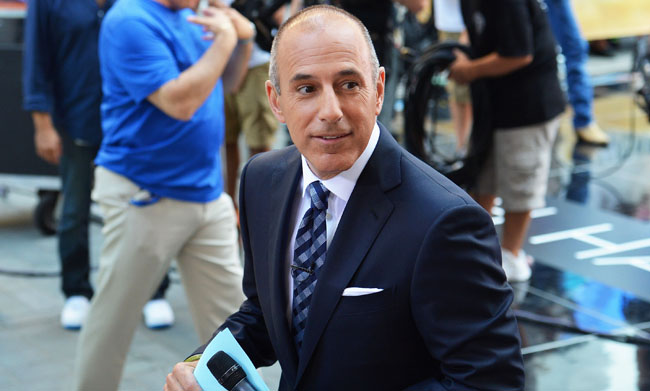 When Savannah Guthrie and Hoda Kotb announced on Wednesday morning that their colleague Matt Lauer had been fired from NBC for inappropriate sexual behavior in the workplace, they appeared to be visibly shaken. Reading a memo from NBC News chairman Andy Lack, Guthrie stated that it was "the first complaint about his behavior in the over 20 years he's been at NBC News." According to a new report from Page Six however, that's not entirely true.
Anonymous staffers said that "everybody at NBC" knew about Lauer's behavior but were pressured not to talk about it. And when women did complain about his behavior it was apparently brushed under the carpet:
A former "Today" staffer added, "For Matt, some women on the show were just a one-time thing, and he never spoke to them again. Other women he had affairs with. And others he just picked up and disposed of when he felt like it.

"The most horrible thing was that he made it clear that if they ever spoke out or crossed him, they would be fired from the show, negative stories leaked about them, and their careers would be destroyed," the source said.
The report from Page Six corroborates what Variety reporter Ramin Setoodeh told Alisyn Camerota on CNN's New Day on Thursday morning. When asked about whether or not any of the other anchors at NBC News knew about the allegations, Setoodeh said, "According to our sources, the co-anchors were aware of some of these allegations. And so, they're having trouble reckoning what some of these anchors said in private conversations versus what was said on TV." Setoodeh also noted that includes both current and former anchors.