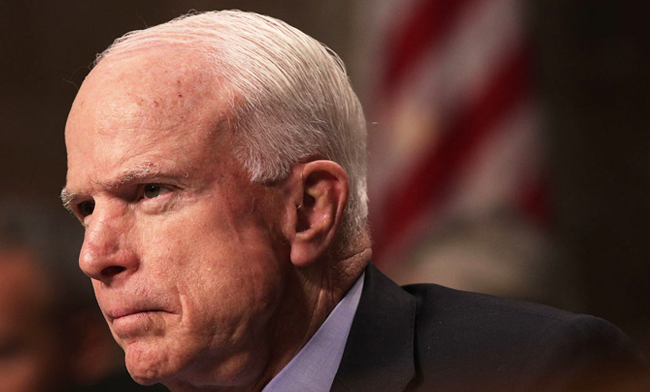 Senate Majority Leader Mitch McConnell announced Saturday night that he would be delaying the vote to repeal and replace Obamacare while Arizona Senator John McCain recovers from an eye surgery procedure to remove a blood clot. McCain is expected to miss at least a week of work as he recovers from his operation at the Mayo Clinic Hospital in Arizona, and his absence will overlap with the expected CBO score of the new Trumpcare legislation which should come out on Monday.
This comes on the heels of McConnell cutting the Senate's recess in half to focus on the new bill.
The message comes from McConnell and his wife, Elaine, saying:
"Elaine and I, along with the entire Senate family, wish John the very best and wish him a speedy recovery. There are few people tougher than my friend John McCain, and I know he'll be back with us soon. Our thoughts are with Cindy and his family, his staff, and the people of Arizona.

While John is recovering, the Senate will continue our work on legislative items and nominations and will defer consideration of the Better Care Act."
The subtext of this delay is that of a repeal vote without enough support from the GOP to pass. While McCain hasn't shown much enthusiasm for Trumpcare, he hasn't done much to cross party lines recently. McConnell and the GOP need every vote they can get if they want to repeal and replace Obamacare, and without McCain, it will be extremely difficult to pass the legislation. It's already looking like they have enough support to pass it as is.
Kentucky Senator Rand Paul and Susan Collins of Maine still oppose the health care plan, while a smattering of centrist Republicans remain on the fence. Additionally, Senators Lindsey Graham and Bill Cassidy are working on their own health care plan which will oppose McConnell's, making things even muddier.
(Via The Hill)