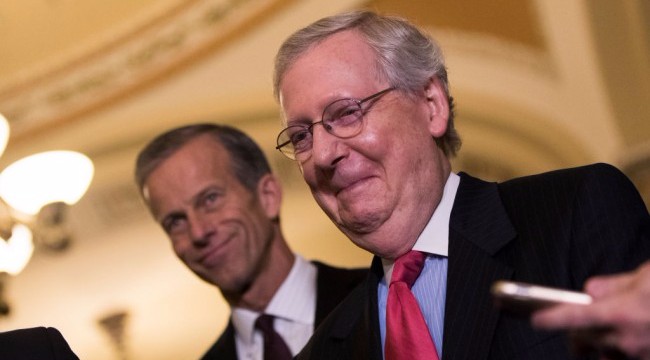 The fallout from the allegations that GOP Senate candidate Roy Moore sexually assaulted multiple teen girls while he was in his 30s reached its weirdest moment with reports that the White House wants to somehow put Jeff Sessions back in his old Senate seat. This would be an effort to solve the Moore issue as well as install a new attorney general. Sen. Mitch McConnell has joined the White House's reported line of thinking and floated Sessions as a write-in candidate in lieu of replacing Moore on the ballot:
McConnell brought up the idea Tuesday night at the Wall Street Journal CEO Council's annual meeting in Washington, proposing Sessions as a write-in candidate to take back his old Senate seat. He cited Sen. Lisa Murkowski, R-Alaska, as a successful example of a write-in campaign.

"It appears as if the only option would be a write-in and that's very seldom successful, although we've had an example of it in 2010. Lisa Murkowski from Alaska lost the primary, ran a write-in campaign in the general election and actually won," he said.
McConnell added that Sessions was popular enough in Alabama to pull off a similar campaign (as Murkowski did in Alaska) for next month's special election.
However, Sessions has yet to publicly indicate he'd be interested in running a write-in campaign, and Roy Moore has adamantly refused to quit the election, which would potentially split Republican voters.
(Via CNN)