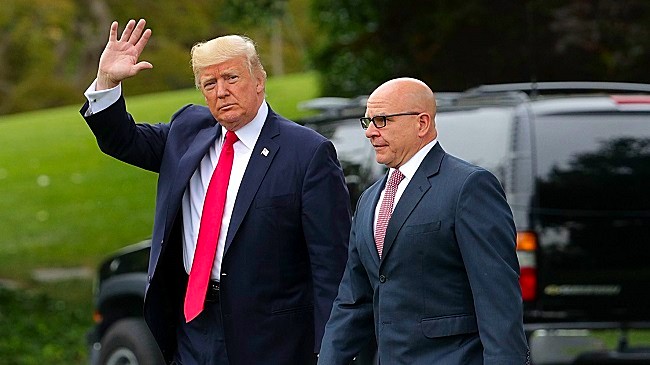 From attacking Attorney General Jeff Sessions on Twitter to his potentially wanting to fire State Secretary Rex Tillerson for a variety of reasons, Celebrity Apprentice-esque squabbles are the modus operandi of President Trump's White House. And according to separate reports by Politico and CNN in the past few days, it seems National Security Adviser H.R. McMaster — who replaced Michael Flynn after he was forced to resign when his vulnerable ties to Russia were exposed — is the next name on the president's list of internal fights to pick.
Per CNN, officials at the Pentagon are "quietly" conducting a search for "a four-star military job suited for McMaster," who is currently ranks as a three-star general. Why? Because the president is reportedly unhappy with his national security adviser and wants to "ease" him out of the White House, as opposed to outright firing him. Of course, Trump doesn't necessarily have the grounds to just outright boot McMaster from his appointed position, as the source of his ire is simply a longstanding series of policy (and personality) disagreements — as opposed to any wrongdoing akin to Flynn's various omissions.
Moving McMaster back into the military with a new, higher ranking would count as a "promotion," though Pentagon officials who spoke with CNN "feel he has become politicized in the White House and have expressed reservations about him returning to the military in a prominent role." Even so, considering the fact that McMaster's job security in Trump's administration has come up before, as well as the president's recent public criticism of him on Twitter regarding what he did (and didn't) say while testifying on Russia's election meddling, it's quite likely that the general's final days in the White House are fast approaching.