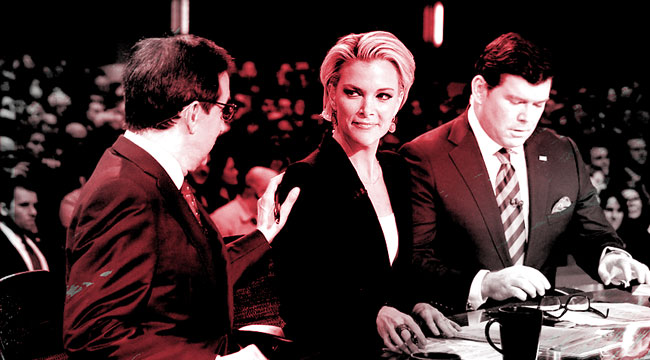 Between settling with Gretchen Carlson to the tune of $20 million and the departure of On the Record host Greta Van Susteren, the Tuesday after Labor Day proved quite busy for Fox News. Carlson sued the channel and its then-chairman, Roger Ailes, for sexual harassment back in July. Many, including Van Susteren, defended Ailes against Carlson's accusations, but more and more current and former female employees of the organization came out on Carlson's side. The result? Ailes resigned at Rupert Murdoch's request, setting the stage for what many pundits considered a massive shakeup.
Whether or not Van Susteren's decision to leave had anything to do with Ailes' ousting remains unclear, though she admitted Fox News hadn't "felt like home to me for a few years" in a Facebook post. Yet her sudden decision to leave the place she called home for 14 years, and the "key man" clause that allowed her to do it, begs the question: Who else is about to leave the most popular cable news channel on television? Seeing as how Bret Baier, Sean Hannity, and Bill O'Reilly's contracts contain the same clause, perhaps one or all three of them will be next.
Then again, seeing as how star anchor Megyn Kelly's contract ends following the presidential election in November, there's a good chance Ailes' former pupil might be setting her sights on a new home. Especially since, according to a new report by Deadline, the Kelly File host just hired her first non-Fox News publicist.

Publicist to the Stars
42 West is one of the largest public relations firms that caters to the entertainment industry, and publicist Leslee Dart is one of its biggest operatives. Her A-list clients include Hollywood actors (Tom Hanks, Meryl Streep) and directors (Woody Allen, Martin Scorsese), musicians (Rihanna), and many others. Kelly's is the latest name Dart has added to her list — the chief reason being the Fox News personality's upcoming book launch for Settle for More, which nabbed her a book deal reportedly worth $10 million.
So Kelly's hiring Dart just might be a sign of the upcoming book tour's weight. Then again, per New York magazine's latest expose on Ailes, Settle for More and its promotion mean just as much to Fox News and its parent company, 21st Century Fox, as it does to Kelly. HarperCollins, the company publishing Kelly's book, is yet another company controlled by the Murdoch family. Hence why Rupert's son Lachlan Murdoch personally oversaw the deal:
So important to Fox is Kelly that Lachlan personally approved her reported $6 million book advance from Murdoch-­controlled publisher HarperCollins, according to two sources.
Not to mention the fact that Kelly is "considered by the Murdochs to be the future of the network." The wealthy family and its media conglomeration would do anything to make Kelly happy (and ensure her tenure at Fox News), especially since her testimony confirmed Ailes' unwanted sexual advances towards her, Carlson, and their fellow female employees.

A Personal Brand-ing
Last April, when Variety asked Kelly whether or not she'd extend her contract with Fox News after the election, the anchor wouldn't give a straight answer. Instead she repeatedly referred to the "brain damage" she incurred on the job:
"I don't know what's going to happen. I've had a great 12 years here, and I really like working for Roger Ailes. I really like my show, and I love my team. But you know, there's a lot of brain damage that comes from the job. There was probably less brain damage when I worked in the afternoon. I was less well known. I had far less conflict in my life."
This was a full three months before Carlson's lawsuit went public. Before Kelly ultimately testified against him and his practices during an interview with the Paul, Weiss lawyers hired by the Murdochs to investigate Ailes' behavior. A lot has happened since then.
Like the Democratic National Convention in Philadelphia, during which Kelly and The Five co-host Dana Perino accepted Don Lemon's invitation to visit the CNN Grill.
The so-called "CNN Grill" was actually XFINITY Live! Philadelphia, a sports bar near Wells Fargo Center rented out by the Fox News rival for the week. CNN filmed many shows there, but the location was used mostly by CNN and non-CNN personnel for a post-work day drink. Yet the Washington Post reported at the time that Kelly did more than hang with Lemon. She also chatted with his boss, Jeff Zucker: "Kelly spoke with CNN chief Jeff Zucker, Anderson Cooper and Don Lemon, according to several tipsters."
Taken by themselves, these various indications could ultimately prove to indicate nothing. However, given the current climate at Fox News and the media's general perception of it, and Kelly's hiring of a major publicist from outside her home organization, perhaps there's more to it. Maybe by the time the second and final round of confetti and balloons are dropped on the presidential victor come November, she'll have something else lined up and ready to go.
(Via Deadline)