Between her alleged involvement in the internal investigation of former Fox News head Roger Ailes, and Donald Trump's on-again-off-again feud with her reporting prowess, Megyn Kelly is a force to be reckoned with. The former attorney, whose conservative journalism and punditry career skyrocketed following The Kelly File's debut in 2013, hasn't let Trump off the hook since he entered the political arena. This was especially the case on Wednesday, when the Fox News anchor ridiculed the Republican nominee for rehashing his past controversies during a rally in Florida.
"What is he doing re-litigating every controversy from the primary season?" she asked writer Ben Domenech (publisher of The Federalist) and Trump supporter David Wohl. Domenech agreed wholeheartedly with Kelly's legal frustrations. Wohl, although he's an attorney, did not. Especially when Kelly brought up Trump's defense of his making fun of a disabled New York Times reporter, which was to laud the "millions and millions of dollars" he's spent on ADA-accessible buildings.
KELLY: The fact that Trump has put ramps in his buildings is required by law. He doesn't get extra credit for that. You have to!

WOHL: But they're very expensive in his buildings, Megyn. Let me tell you…

KELLY: Oh good God.
Between Domenech giggling on camera, the crew laughing off camera, and Kelly's literal facepalm, the brief exchange succinctly sums up the White House hopeful's not-so-great week.
The full segment can be viewed above, but look for Kelly's priceless reaction at the 2:24 mark.
(Via Mediaite)
Now check out…
Twitter Imagined Tremendous Books Through A Donald Trump Filter With #TrumpBookReport
by Caleb Reading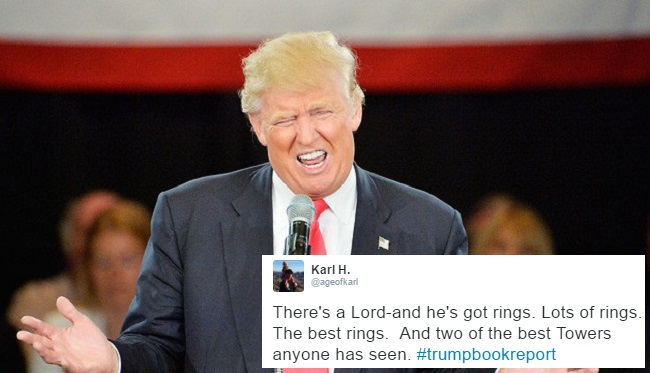 If you watched the third Presidential debate, you may have noticed something about Donald Trump's speech pattern which was lambasted on Twitter, particularly when he struggled to answer a question about the siege of Aleppo posed by Chris Wallace:
That second tweet from St. Louis, Missouri, city alderman Antonio French inspired a hashtag, #TrumpBookReport. Jokes with the hashtag imagine Trump bluffing his way through book reports on famous books he hasn't read or didn't understand. Trump does book reports on only the greatest books. Tremendous books. We have the best books.