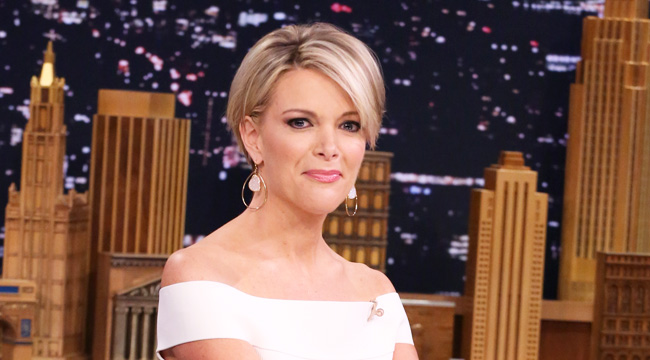 Former Fox News host Megyn Kelly rose to the top of the cable-news pyramid last year following her repeated clashes with Donald Trump. He threatened her during one debate, and she went toe-to-toe with him in another. Eventually, she delivered an interview with him that some found toothless, although one could assume that she was constrained by Fox guidelines at the time. Soon enough, however, she made the decision to walk away from partisan network constraints for a triple role at NBC — including a 60 Minutes-esque Sunday night news-magazine program where she looks forward to stretching her legs.
How so? As Kelly recently put things, "I don't love politics." She told Politico that while she'll continue to do so from time to time, "I don't want to do only that. It's not enough for me personally." So, one might expect Kelly to possibly interview pop-culture figures like the Kardashians, but she's not going there yet. In fact, she'll get very political for her Sunday night debut with Vladimir Putin. What should we expect from their one-on-one talk?
The fact that these two would exchange words onstage at the St. Petersburg International Economic Forum was confirmed a month ago, but Kelly didn't know for sure (until a few days ago, as she revealed in a TODAY promo) that she'd receive a post-event interview with him. At the time, Kelly vowed to ask Putin about "meddling" and "the prospect of our two countries working together." And Kelly knows that election interference must be a major focus, for anything less would be a wasted opportunity.
Kelly also sold this interview, big time — by listing it as one of her top-three career moments (before it even happened) — while speaking to Tampa's ABC Action News. Of course, the big moments will be under wraps until Sunday, but if her Friday onstage encounter with Putin is any indication, things may get fiery. In front of the forum audience, Putin denied Russian government hacking and said that anyone could have framed his country because (get this) he believes a toddler could commit a cyberattack:

"What are you talking about? IP addresses, they can be invented … A kid of yours can send it, your girl that is 3-year-old can perpetrate such an attack, they present it like this, they can pass it off like this, and the specialists can invent anything and then they will blame someone else. These are not proofs. These are trying to shirk responsibility. There is no specific evidence, no facts, just assumptions, allegations and conclusions based on those allegations nothing more."
Oliver Stone recently interviewed Putin to no avail (although the two did watch a relevant movie together), and it's unlikely that Kelly will score any sort of voluntary admission from Putin, but she may be able to extract an on-camera outburst that would result in a ratings boon. How come? Although Putin has been content not to speak too much on the subject of hacking allegations, he's recently begun lashing out, and Kelly will be performing the first official American journalist sit-down since the appointment of Special Counsel Robert Mueller by the Department of Justice.
So, sh*t is actually getting real with the Trump-Russia probe — as is evidenced by Trump's freakout session over Mueller — and Putin has absurdly suggested (while denying Russian state hacking) that "patriotically minded" hackers may be to blame for everything. And above, he said that a child could be to blame, so one can expect whatever he reveals to Kelly to be even more bizarre. Of course, Kelly may also mention how Trump reportedly returned luxury compounds to Russian diplomats. Putin's reaction to such a question would be telling, as would be any response to the late-breaking news about Trump coming in like gangbusters (following his inauguration) in a failed effort to remove Obama's sanctions on Russia.
However, there are a few more questions that Kelly could ask that could produce explosive results. She could mention those anticorruption protests that are running rampant throughout Russia or the widespread reports that Putin allegedly kills journalists who report critically about him. And if she mentions how Trump actually defended such acts, hooo boy.
Megyn Kelly will make her Sunday Night NBC debut at 7:00pm EST on June 4.