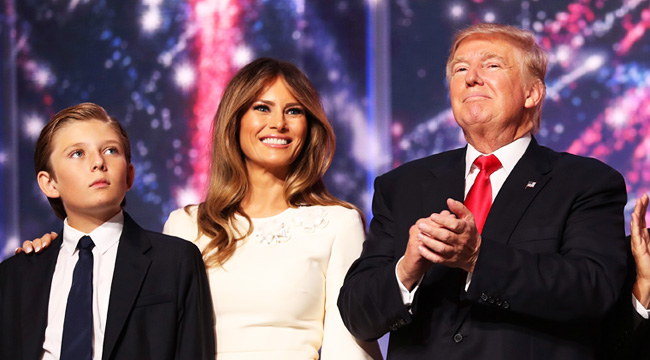 Did you think the last 18 months were chaotic for American politics? This won't change anytime soon, and when Trump takes office in January, he'll reportedly move into the White House all by his lonesome. That is, when he's not at Trump Tower or his Florida Mar-a-Lago compound (he's projected to spend a lot of time in both places), but a president's family generally lives with him (or her) during their Washington D.C. stints. If a new report from the New York Post is to be believed, the Trumps will play things differently.
The report states that Melania wants to stay put in Trump Tower as her primary residence. The reason given, according to two sources familiar with the Trump transition team's inner workings, is that the move would be disruptive for Melania and Donald's 10-year-old son, Barron. The Trumps think it would be better if Barron could continue his NYC schooling:
"Melania is extremely close to Barron, and they have become closer during the campaign," said a source close to Trump's transition team. "The campaign has been difficult for Barron, and she is really hoping to keep disruption to a minimum."

Another source said Melania Trump will travel to the White House as needed, but that her primary focus is on Barron.

"Melania is very supportive of her husband and is fully on board of doing everything that's needed as first lady," said the second source familiar with the Trump transition.
To criticize how Melania wishes to parent her son would be a low blow, so let's not go there. However, this unconventional approach to how the First Family will ride out the next four years lends a lot of credence to the theory that Trump never planned (or expected) to win the presidency.
For those who live or work in midtown Manhattan, this news will likely be received with groans, as the area has become a fortress. Barricades are shutting down entire lanes of traffic around Trump Tower, and security — including Secret Service and the NYPD — is at an all-time high in the area with pedestrians unable to walk by the building. Even nearby shopping is affected with clientele having to go through baggage check just to enter stores. And this will be the next four years, basically:
"That building is going to become the White House of New York," said Jim Reese, a former Delta Force commander and president of TigerSwan, a global security company based in North Carolina.

"The Secret Service is going to have to keep that whole area cordoned off so that some wacko can't get close and detonate a car bomb."
So, the transition team meetings in Trump Tower are already shutting down the area, and it sounds like there won't be relief for New Yorkers for awhile. The report does add that Melania is sort of keeping the book open on switching Barron's school next fall (and possibly moving to D.C.) but that's still sometime down the road.
(Via New York Post)