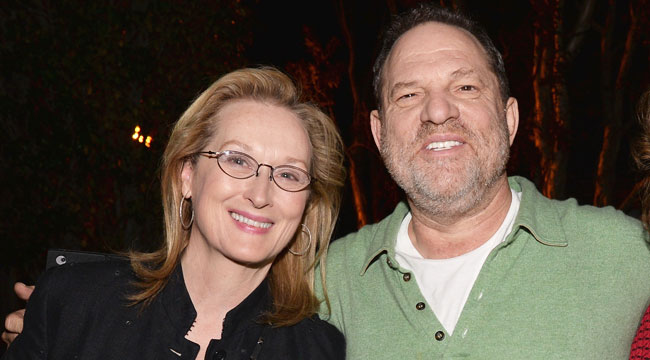 Earlier this week, Meryl Streep was targeted by street art in LA that arrived in the form of posters (placed in multiple locations) showing the chronic Oscar winner next to disgraced mogul Harvey Weinstein. In the posters, there's a strip over Streep's eyes with a message reading, "#SheKnew," which appeared to be a reference to Rose McGowan's criticism of the silent protest (by Streep and other actresses) coming up at the Golden Globes. From the social media circulation of these posters, which were plugged by conspiracy theorist and Pizzagate truther Mike Cernovich, this appeared to be a right-wing endeavor. And that last detail has apparently been confirmed.
At least, an artist has come forward to claim responsibility for the campaign, and that would be a former U.S. marine, Sabo, who fancies himself a far-right version of Banksy. Sabo — whose work is often racially-charged and laced with misogyny (he has tweeted a photo of Weinstein with Jennifer Lawrence and a "She Blew" caption) — told The Guardian that the posters are "revenge" for Streep's current film, The Post, and her critical view of President Trump:
Sabo, 49, said he and two collaborators conceived the campaign as retaliation for Streep using her latest Oscar-tipped film, The Post, to bash Trump. "She's swiping at us so we're swiping back." … [Sabo] says Republicans are the new punks, and makes a living selling inflammatory artwork at conservative events and through his website, plus contract work for the likes of Milo Yiannopoulos.
Streep, as many will recall, used her speech at the 2017 Golden Globes to slam Trump (without even mentioning his name) for mocking a disabled reporter. In a less classy move, Streep also once dressed in "orangeface" as part of a Trump costume. Yet there's never been a shred of evidence that Streep knew anything about Weinstein's reported decades of sexual misconduct (and Streep has fully denied knowing about the alleged rapes), but of course, Sabo has continued to rage on Twitter about Streep and The Post.
(Via The Guardian)