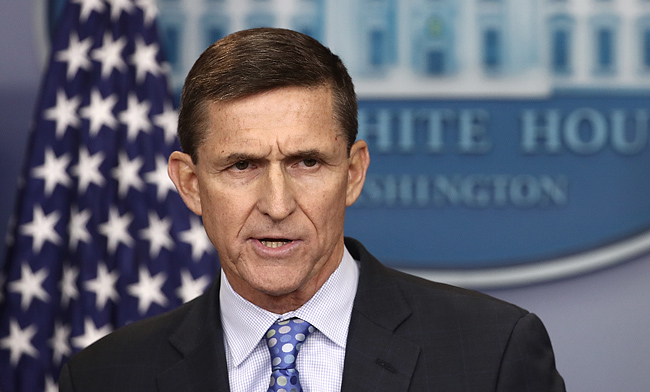 Just yesterday, word broke that Michael Flynn was registering as a "foreign agent" due to lobbying work he did during the 2016 election that may have benefited the Turkish government. On its own, that's embarrassing for the Trump administration, but now, reports reveal that the White House knew about the issue, and chose not to act.
Fox News reports that a White House official admits that Flynn's personal attorney told the transition team that he might need to register, and the Chicago Tribune echoes the news while adding that Trump reportedly wasn't aware of this requirement. And further updates show that this situation has more direct ties to the Turkish government than originally thought, and it appears that Flynn had direct contact with the Turkish government as part of his lobbying efforts:
Flynn Intel and S.G.R. LLC Government Relations and Lobbying pressured congressional aides to investigate a cleric whom Erdogan had accused of directing a botched coup last summer. The two firms orchestrated meetings with U.S. officials— including congressional staffers and Arkansas Lt. Gov. Tim Griffin, a Republican — as well as journalists. They also worked on research, informational materials and a video on the cleric, Fethullah Gulen.

Flynn met privately in September in New York with two senior Turkish government officials, including the government's ministers of foreign affairs and energy. Flynn's company did not name the officials, but the current Turkish energy minister is Berat Albayrak, who is Erdogan's son-in-law.
If this information holds, it not only presents a clear conflict of interest, but reflects either willful denial or confusion in the White House. Press Secretary Sean Spicer and Vice President Mike Pence both claimed to have had no knowledge of Flynn's lobbying activities in the months leading up to the election.
That Flynn was working for the Turkish government on Fethullah Gulen is particularly worrying. Gulen was an ally of Turkish leader Recep Erdoğan until 2013, when Erdoğan, facing an embarrassing corruption scandal that implicated several members of the AK Party, insisted that Gulen was attempting to stage a coup. Gulen fled to the United States, and while Turkey insists he's a terrorist, and he tops the country's most-wanted list, few in Washington give Erdoğan's claims any credence and an extradition demand has been ignored.
In short, even if Flynn hadn't been brought down by his communication with Russia, his communication with Turkey likely would have become a political flashpoint. The question now becomes how much the White House knew about the work Flynn was doing, and whether his lobbying work might have colored any plans he would have had as national security adviser.
(via Fox News & The Chicago Tribune)