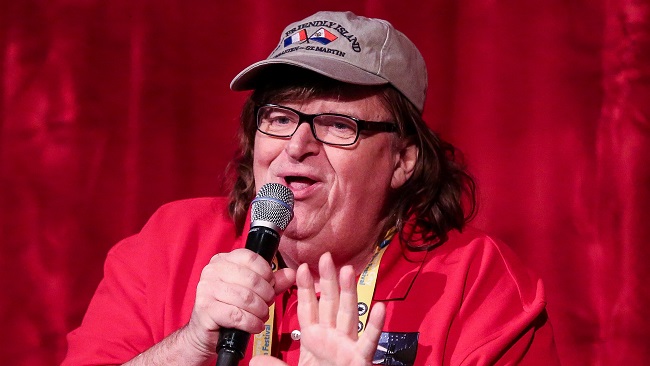 Aside from propelling a former reality television host to the highest office in the United States, the 2016 presidential election also reignited the political ire of Michael Moore. The documentary filmmaker behind such classics as Roger & Me and Bowling for Columbine is a frequent talking head on cable news shows nowadays, especially after his prediction about the American Midwest was proven true in dramatic fashion by Trump's victory. He's also developed a penchant for doing live shows, which seems to have culminated in his upcoming Broadway debut, The Terms of My Surrender.
According to the Hollywood Reporter, the Michael Moore in TrumpLand director and star's new play "will attempt to take down Donald Trump." How, you ask? By putting Moore on stage for a limited 12-week engagement at the Belasco Theatre, where previews will begin July 28th and continuing until opening night on August 10th. Under the direction of Tony Award-winner Michael Mayer (Spring Awakening, Hedwig and the Angry Inch), the "play" will consist of Moore responding to, and conversing about the day's latest news with surprise guests.
"The event of the show will actually begin as people assemble outside the Belasco Theater and will continue after the show's over. There might be some impromptu excursions after the show to places that might be nearby. You can do the math," said Mayer at a press conference, referencing the nearby Trump Tower. "I think everyone's going to be having a unique, exciting and politically incendiary experience."
So, basically, Moore's Broadway debut will be his live version of The Daily Show.
(Via the Hollywood Reporter)