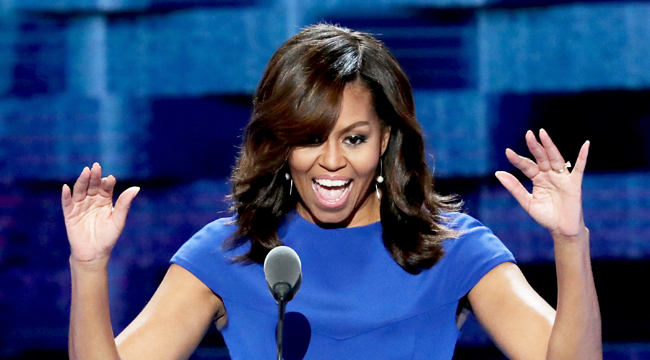 Michelle Obama hasn't been the nation's FLOTUS in nearly two years, but she, at least, seems to be living her best life. On top of working, alongside her husband, one Barack Obama, on one or more Netflix shows, she's even, as per EW, a bestselling author — again! Her memoir, Becoming, was released earlier this week, and everyone bought it. And you thought people no longer purchased books.
Penguin Random House, Obama's publisher, revealed Friday that Becoming sold 725,000 copies — on the first day alone. (That figure includes pre-orders and all formats, incidentally, but still.) On top of that, the publishing giant said their initial run of 1.8 million copies is definitely not enough; demand has been so high they have to print off an additional 800,000 copies. All told, that means Michelle Obama's memoir will have sold 2.6 million copies.
This isn't Michelle's first book. Back in the salad days of 2012, she released America Grown: The Story of the White House Kitchen and Gardens Across America — a picture-heavy coffee table-type book that somehow made conservatives, who never liked when she preached tips on staying healthy and living longer, because why would they want to do that?

The former First Lady's book arrived on a whirlwind of anticipation, with some of its juicier bits dropped before its release. One of those was that she said she'd "never forgive" her husband's successor because of his ecstatic endorsement of the since-debunked "birther" theory, which, she said, made them a target of some of the nation's more trigger-happy residents. (Donald J. Trump has never formally apologized for his role in augmenting the false claim.) Trump then struck back, or attempted to, by saying he'd "never forgive" her husband for cutting back on military spending, though perhaps that's already one of the many statements he's forgotten ever saying.
Michelle Obama's book was also released in Spanish, Portuguese, and Italian versions. Hooray for books!
(Via EW)