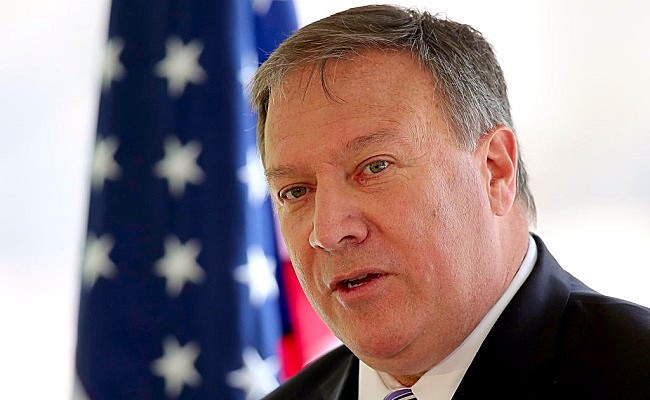 After months of rumors of a continuously deteriorating relationship between Donald Trump and Rex Tillerson, the president's secretary of state, the New York Times reports a new State Department head will soon be installed. CIA Director Mike Pompeo, who previously told administration officials that he was Trump's favorite pick to replace Tillerson should such a replacement be necessary, will apparently take over the state department "within the next several weeks," while Sen. Tom Cotton (R-Arkansas) will occupy Pompeo's old gig at the CIA. The Times is describing Tillerson's coming ouster as being "forced out."
It was not immediately clear whether Mr. Trump has given final approval to the plan, but he has been said to have soured on Mr. Tillerson and in general is ready to make a change at the State Department.

John F. Kelly, the White House chief of staff, developed the transition plan and has discussed it with other officials. Under his plan, the shake-up of the national security team would happen around the end of the year or shortly afterward.
Despite the supposed plan's lack of a final approval and a weeks-long timeline, internet provocateur and news aggregator Matt Drudge apparently suggested Tillerson was already "out" on Twitter. So who knows? At this point, it's anybody's guess as to how much longer Tillerson will remain with his shrinking State Department.
UPDATE #1: When quizzed by reporters in the Oval Office about whether Tillerson is out of a job, Trump responded, "He's here. Rex is here."
Reporter: "Do you have Rex Tillerson on the job?"

President Trump: "He's here. Rex is here." pic.twitter.com/H72H8X529y

— NBC News (@NBCNews) November 30, 2017
UPDATE #2: In a statement to the press, the White House reiterated Trump's "he's here" comment regarding Tillerson's future as his state secretary. "As the president just said, 'Rex is here.' There are no personnel announcements at this time."
(Via New York Times)