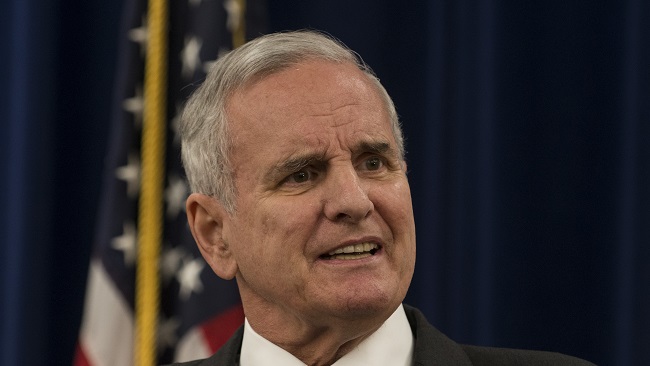 The day after what FBI agents described as an "improvised explosive device" was set off outside the Dar Al Farooq mosque in Bloomington, Minnesota, Governor Mark Dayton condemned the incident as "an act of terrorism" while visiting the site. "It's an act of terrorism, a criminal act of terrorism," he told mosque representatives, attendees and reporters on Sunday. "I hope and pray that the perpetrator will be caught and prosecuted to the full extent of the law."
Saturday morning, just as worshipers had gathered at Dar Al Farooq for the first prayer of the day, a blast rocked the outside of the building but caused no injuries or deaths. It did, however, cause significant damage to what the mosque's executive director, Mohamed Omar described as the "imam's room." A large window was shattered, and the brick of the mosque's exterior wall was charred, leading police to determine the blast "was caused by a destructive device." The FBI's assessment of the bomb's being an IED came later.
The Muslim American Society of Minnesota's executive director, Asad Zaman called Saturday's bombing an "unprovoked hate crime" while speaking with Dayton at a news conference on Sunday. For his part, the governor didn't repeat Zaman's declaration, possibly because he wanted to leave that determination up to the FBI, but that didn't stop him from outright labeling the incident as an act of terror. Interestingly enough, the incident occurred just over 75 miles from St. Cloud, where an attacker later hailed by ISIS injured eight people during a stabbing spree at a local mall last fall.
(Via New York Times)