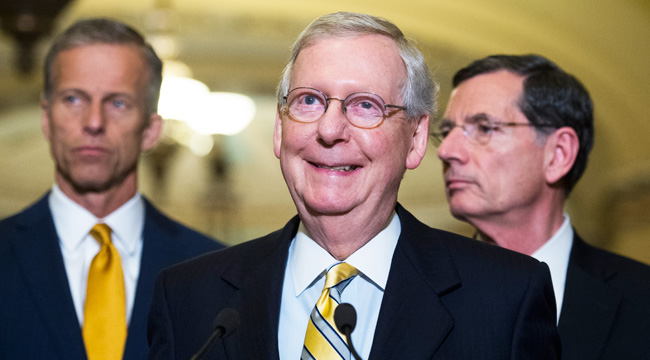 Senate Democrats are working hard to pressure their GOP counterparts for healthcare hearings amid an atmosphere of secrecy regarding the in-process American Health Care Bill. Republicans appear committed to keeping the bill's contents hidden until it's too late for a CBO review before voting begins, and Congress has also banned hallway interviews of senators while the drafting process continues. Yet even President Trump has added fuel to the fire by labeling the bill as "mean" after devouring coverage of how the Republican plan would take away insurance from millions of Americans while placing healthcare entirely out of reach for some Medicaid recipients.
So, the GOP is working on their product but still won't do so in full view of Democrats, who are making noises about what they view as the more transparent Affordable Care Act drafting process, which saw nearly 100 hearings and 25 days in session on the subject. The resulting frustration led Democrats to stage a Monday night "talkathon" in order to pressure (or shame, whichever word works best) Republicans into holding hearings. And in that spirit, people are trucking out some old quotes from key Republicans who complained during the Obamacare drafting process, including this one from current Senate Majority Leader Mitch McConnell:
"This is a very important issue. You know, we shouldn't try to do it in the dark. And whatever final bill is produced should be available to the American public and to members of the Senate, certainly, for enough time to come to grips with it. And we are going to insist — and the American people are going to insist — that it be done in a transparent, in a fair and open way."
This quote arrived in October 2009 after several hearings on the ACA with Democratic attempts to actively include GOP Senators Olympia Snowe and Chuck Grassley. Likewise, a similar Mike Pence quote is making the rounds.
Meanwhile, Republicans are still somehow planning for "a marathon of votes" on healthcare next week. Unfortunately, there's "no written bill yet," according to NBC, nor are GOP leaders confident that they can reach the 50 vote threshold to pass this (nonexistent) legislation. But they're hoping for "an outline" by next Wednesday. Stay tuned!
Here are some MSNBC highlights from last night's "talkathon," which included passionate arguments from Democrats Cory Booker, Bernie Sanders, and Chris Murphy.
Dems blast GOP during health care talk-a-thon: "Why are my constituents not allowed to see the details about what happens to their lives?" pic.twitter.com/JRw2XJoytu

— Kyle Griffin (@kylegriffin1) June 20, 2017