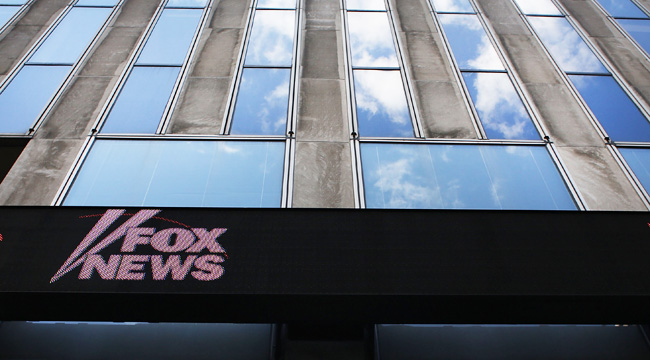 Adding to the recent deluge of trouble for Fox News, three more Fox News employees have sued the cable news network for discrimination, adding to the number of suits against the network. According to Bloomberg:
Kathleen Lee, a shift editor at Fox News Radio, Naima Farrow, a former accounts payable coordinator, and Vidya Mann, a former accounts receivables specialist, sued Fox on Monday, claiming they faced discrimination at the network. The three are among 23 current and former Fox employees represented by Wigdor LLP, a New York employment law firm, who complained of discrimination and retaliation.
According to LawNewz, Lee was harassed by a two anchors and her complaints were ignored by two executives at Fox News Radio. After repeated incidents, one of the anchors was fired, but Lee started receiving poor performance evaluations. Her complaint reads, "Fox does nothing to curb the unlawful behavior. Worse, when female employees dare report such conduct, Fox victimizes them a second time – by subjecting them to escalated sex bias, retaliation, or both."
Farrow, a black woman who worked at the network for 11 years, claims she was fired three days after informing her supervisor that she was pregnant. She also alleges receiving racial comments contributing to a hostile work environment, including a "mock impression of a black woman," complete with the phrase "Hey, girlfriend," done by former network controller Judith Slater, who is named in several other discrimination suits against the network.
Mann joined a previously existing suit against the network. Mann, claims racial discrimination and being passed over for opportunities to be named a full-time employee (and told to "hang in there") as well as being fired after having a child.
On top of these discrimination suits, Fox News has had several high-profile exits from the company in recent weeks for similar behavior. The Five co-host Bob Beckel was fired Friday "for making an insensitive remark to an African-American employee." His firing arrives after Bill O'Reilly was terminated in April for rampant sexual harassment; co-President Bill Shine left the network after female employees petitioned for his ouster; and former President Roger Ailes left last summer after settling a sexual harassment suit.
The suits come at an inopportune time for parent company 21st Century Fox, which is trying to win a takeover of a British broadcaster but faces scrutiny from U.K. regulators over its fitness because of the rash of allegations.
A Fox News spokesperson has issued a statement:
"We have consistently demonstrated that the Company is committed to a diverse workplace that is free from all forms of discrimination, takes any complaint of discrimination seriously, and in these particular matters took prompt, effective and, where necessary, strong remedial action. We believe these latest claims are without legal basis and look forward to proving that Fox News at all times has acted appropriately, and lawfully, in connection with these matters."