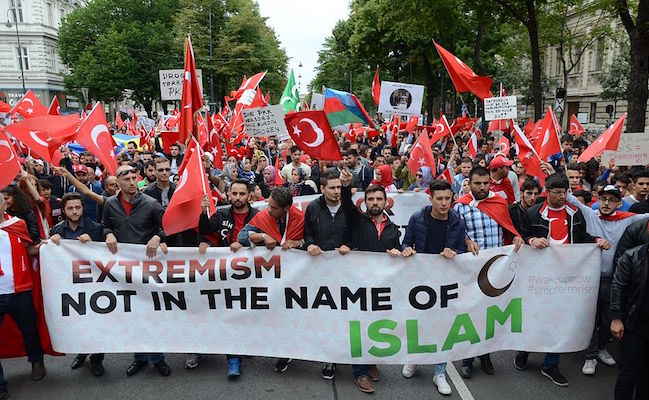 The Islamic State can certainly be characterized as a cult by its brainwashing abilities, which when coupled with its violent tendencies under the banner of a religion makes for a very persuasive and deadly combination. It's also apparently a 'cult' where the bulk of its members don't actually realize or care that they're defying doctrines they claim to believe in.
A newly published Associated Press analysis, which cites leaked Islamic State documents along with original interviews with former recruits, reveals most of its newcomers from its earliest days came in with only the most basic knowledge of Islam. According to the report, it is not the religious devotion that draws new members:
Patrick Skinner, a former CIA case officer with extensive experience with Mideast extremist organizations, said some people claim allegiance to IS out of religious belief, but that most who join, including those from the West, are people "reaching for a sense of belonging, a sense of notoriety, a sense of excitement …Religion is an afterthought," said Skinner, who is also director of special projects at security consultancy the Soufan Group
The report also suggests that potential recruits with little knowledge of Islam are more susceptible to the extremist group's radical, violent ideas:
The group preys on this religious ignorance, allowing extremists to impose a brand of Islam constructed to suit its goal of maximum territorial expansion and carnage as soon as recruits come under its sway.
The AP examined entry form documents from more than 4,000 foreign recruits who had crossed into Syria back in 2013 and 2014, when the terrorist group was rapidly expanding its efforts. One French recruit admitted that ISIS members used "smooth talk" — not religious indoctrination — while barhopping to persuade him. And it turns out that a high percentage of new recruits have just "basic" knowledge of Shariah law:
According to the documents, which were acquired by the Syrian opposition site Zaman al-Wasl and shared with the AP, 70 percent of recruits were listed as having just 'basic' knowledge of Shariah — the lowest possible choice. Around 24 percent were categorized as having an "intermediate" knowledge, with just 5 percent considered advanced students of Islam. Five recruits were listed as having memorized the Quran.
The report concludes with an important reminder from an Islamic scholar, Tariq Ramadan, who said, "The people who are doing this are not experiencing martyrdom, they are criminals. They are killing innocent people. Nothing in Islam, nothing ever can justify the killing of innocent people, never, ever."
(Via Associated Press)