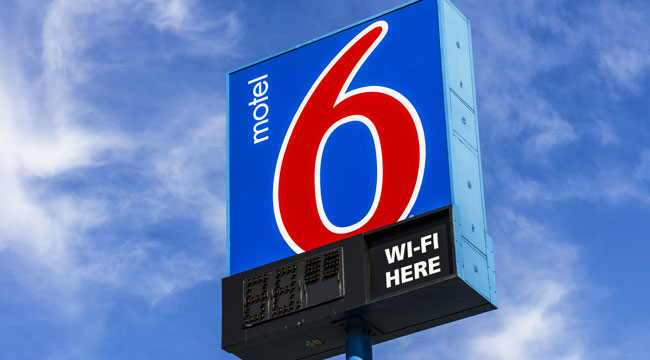 The subject of immigration in the U.S. won't grab nearly as many eyeballs as Ted Cruz "liking" porn on Twitter, but the topic has low-key dominated much of the news cycle all year and stretched into unexpected arenas. Recent additions of the Trump era include the Supreme Court signing off on Trump's refugee block while Starbucks condemned ending DACA, a Russia-linked Facebook group organized anti-immigration rallies, and border checkpoints continued intact during Hurricane Harvey. Could one ever imagine that the immigration debate would extend to … the front desk of Motel 6, home of the "We'll leave the light on for you" slogan?
That's exactly what's happening if a new Phoenix New Times report is to be believed. After digging into Immigration and Customs Enforcement (ICE) arrest paperwork, the paper has uncovered an abundance of incidents where ICE agents have curiously knocked on the doors of Motel 6 guests who happen to be undocumented immigrants. At two of the motel chain's Phoenix locations, the past six months' tally has climbed into double digits:
A Phoenix New Times review of court records found that between February and August, ICE agents made at least 20 arrests at Motel 6s, showing up roughly every two weeks. (Since many of the documents we reviewed contained only vague details about where ICE encountered an individual, the actual number is likely even higher.)

All took place at one of two Motel 6 locations: 4130 North Black Canyon Highway or 1530 North 52nd Drive. Both are in predominantly Latino neighborhoods. New Times was unable to find records indicating that ICE conducted arrests at other local motels during this same time period.
Defendants' attorneys who spoke to the paper have voiced suspicion due to their clients using Mexican voter ID cards when asked to provide identification before checking in and paying with cash. Further, anonymous desk clerks from both Motel 6 locations spoke with Phoenix New Times to admit, "We send a report every morning to ICE — all the names of everybody that comes in." This happens, reportedly, at the touch of a button that pushes all relevant information to ICE.
And to somehow make this story even worse, one immigration attorney (whose client is currently being detained by ICE and has spoken to others in the same situation) has heard an unsettling rumor involving alleged compensation for these Motel 6 reports: "They have heard (no telling how valid the info is) that ICE is paying $200 per person for the front-desk clerk to report." If true, that's pretty darn inhospitable.
In addition, the paper also spoke with an ICE spokesperson, who would not comment specifically on whether ICE checks out hotel guest lists while citing an inability to discuss the agency's "investigative techniques." Indeed, the representative would only speak "hypothetically" about vague "targeted enforcement" methods that are regularly employed.
UPDATE – 9/14 11:30am EST: Motel 6 has reached out with the following statement: "Regarding the recent media story on Phoenix-area location, this was implemented at the local level without the knowledge of senior management. When we became aware of it last week, it was discontinued. We are currently investigating and will provide more information shortly."
(Via Phoenix New Times)