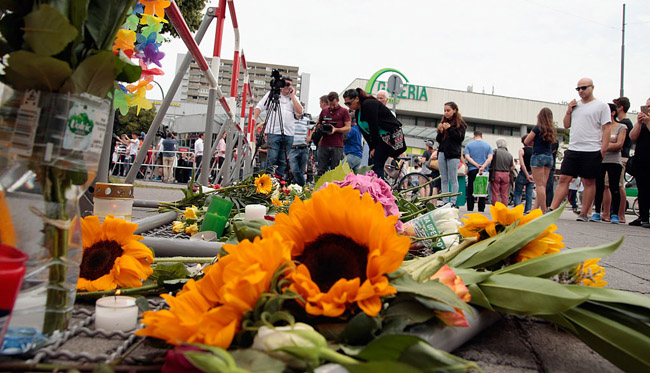 As is happening too frequently these days, more details behind the suspect in a mass shooting are becoming clearer in the days that follow. The 18-year-old behind Friday's shootings in Munich that killed at least nine apparently had a connection to one of Europe's worst mass killers, providing a few answers behind Friday's motivations.
Despite early reports and concerns, the attacks do not seem to have a connection to the Islamic State and authorities have discovered indications that the shooter was inspired by other mass shootings in general according to Reuters:
The 18-year-old, who was born and raised locally, opened fire near a busy shopping mall on Friday, triggering a lockdown in the Bavarian capital in the third act of violence against civilians in Western Europe – and the second in southern Germany – in eight days.

Seven of his victims were themselves teenagers, police said, and Bavarian state crime office president Robert Heimberger said the gunman was carrying more than 300 bullets in his backpack and pistol when he was later found dead of a gunshot wound.

Following a police search of the attacker's room, where a book on teenage shooting sprees was discovered, Munich police chief Hubertus Andrae all but ruled out an Islamist militant link in the attack, in which a further 27 people were wounded – including some hurt when panic spread.
Authorities believe the suspect may have used a fake Facebook profile to lure victims to the McDonald's where the attack happened and also had an "obvious link" to the mass shooting in Norway in 2011:
Munich police chief Hubertus Andrae said there was an "obvious" link between the new attack and Friday's fifth anniversary of Breivik's attacks in Norway, when he murdered 77 people…

"We are assuming that he may have suffered from depression," he said. "As far as we know he has no criminal record. In 2012 and 2010 he was a victim of an attack – on one occasion he was beaten by three young offenders."
Anders Behring Breivik murdered 77 people on 22 July 2011, bombing a government building in Oslo before gunning down 69 people at a summer camp on Utoeya. Brevik is currently serving a 21-year prison sentence, but the attack in Munich and its apparent connection shows his crimes still hangs over the continent. And no matter the final connection, it's just the latest in a string of horrible attacks that have struck Europeans in recent weeks.