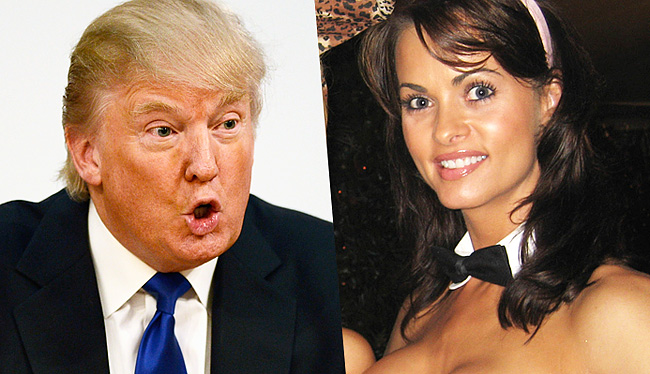 According to a new report by The Wall Street Journal, American Media Inc. — the company that owns the National Enquirer — allegedly purchased the rights to a story by a possible Trump mistress for $150K and then never ran it. The Wall Street Journal alleges that AMI purchased the story as an example of "catch and kill" by the tabloid — quashing the story and ensuring it doesn't see the light of the day. All of this comes despite several accusers going public with claims of sexual abuse against Trump.
The story in question involves former Playboy playmate Karen McDougal and her alleged consensual relationship with Trump in 2006, during a period when the candidate was married to Melania Trump. According to The Wall Street Journal, the company denies paying for the story:
In a written statement, the company said it wasn't buying Ms. McDougal's story for $150,000, but rather two years' worth of her fitness columns and magazine covers as well as exclusive life rights to any relationship she has had with a then-married man. "AMI has not paid people to kill damaging stories about Mr. Trump," the statement said.

Hope Hicks, a Trump campaign spokeswoman, said of the agreement with Ms. McDougal: "We have no knowledge of any of this." She said that Ms. McDougal's claim of an affair with Mr. Trump was "totally untrue."
The situation raises more questions about the relationship between Trump and the tabloid, including his relationship with AMI CEO David J. Pecker. It also raises questions about the practices at AMI, citing reports that McDougal had been shopping her story to ABC News before the company purchased the exclusive rights accord to The WSJ:
The agreement between Ms. McDougal and AMI doesn't mention Mr. Trump by name, but gives the publisher the rights to "any romantic, personal and/or physical relationship McDougal has ever had with any then-married man." The document says AMI is entitled to damages of at least $150,000 if she discloses her story elsewhere on social media or gives interviews about it.

Ms. McDougal hasn't appeared in or written for any AMI publications since signing the agreement, according to a person familiar with the matter.
The details of the report would seem to indicate and confirm a clear bias for Trump that many have assumed since the start of his campaign. Many Trump rivals have seen critical headlines written about them in the past year, with Hillary Clinton becoming a clear target for numerous stories involving the conspiracies about her health and the constant Trump campaign barrage calling for Hillary to be thrown in prison.
(Via The Wall Street Journal)