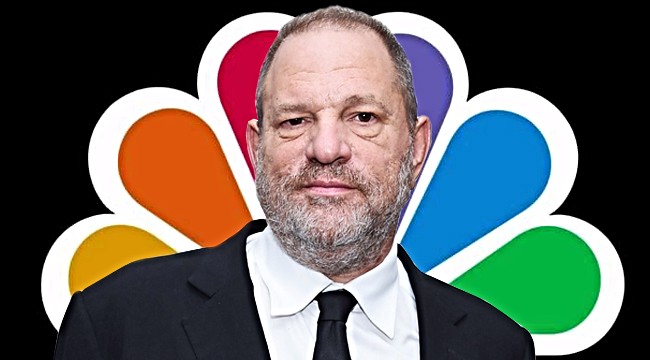 The explosive stories detailing decades of alleged sexual harassment, sexual assault, and rape perpetrated by Harvey Weinstein aren't going away anytime soon. More and more women are coming forward with awful accounts of the Hollywood mogul's sordid behavior, while his apologists and enablers are being dragged by his victims and their supporters. This includes the media itself, for as CNN's Jake Tapper tweeted on Tuesday, "Speaking of media complicity ask yourself why NBC reporter @RonanFarrow wrote this for The New Yorker." So several journalists did, and what they uncovered doesn't put NBC in the best light.
According to The Huffington Post, NBC chose not to run with Ronan Farrow's reporting over "concerns related to the story's sourcing and cleared Farrow to take it to The New Yorker." When pressed for what those specific concerns were, those with knowledge of NBC's decision to kill the story claimed Farrow's piece was "nowhere close to what ultimately ran in the NY Times or The New Yorker." Yet Huffington Post learned Farrow's investigation was in the network's hands as early as August, and at that time already included the damning audio of Weinstein admitting he had groped model Ambra Battilana Gutierrez.
Video: Smart of @Maddow to press @RonanFarrow about why NBC didn't greenlight/support him pushing his Weinstein investigation #TTT pic.twitter.com/JApEs07xoL

— Curtis Houck (@CurtisHouck) October 11, 2017
Asked why he filed the story with The New Yorker instead of NBC on Tuesday's The Rachel Maddow Show, Farrow sidestepped the question. "You would have to ask NBC and NBC executives about the details of that story," he said. "I will say that, over many years, many news organizations have circled this story and faced a great deal of pressure in doing so." Yet when Maddow mentioned NBC's belief that the story wasn't "publishable," Farrow fought back. "I walked into the door at The New Yorker with an explosively reportable piece that should have been public earlier. Immediately, obviously, The New Yorker recognized that. It is not accurate to say it was not reportable. In fact, there were multiple determinations that it was reportable at NBC."

At The Daily Beast, Lloyd Grove remarked the indirect back-and-forth between NBC and Farrow "highlighted an uncomfortable debate among NBC News insiders" about "the reasons why a respected television network would kill a sensational scoop." A great deal of this, he suggested, had to do with Weinstein's "meticulous and relentless" efforts to control his public image in the press. The pressures Farrow alluded to include threatened lawsuits, which Weinstein threatened both him and the Times separately. That, and other forms of outright bullying:
More than a decade ago, when this reporter was doing a gossip column at the New York Daily News and politely declined Weinstein's request to kill an item about his recent divorce, he wheedled that he was my most loyal fan and had advised the paper's owner to give me a raise; when that didn't work, he angrily threatened to ban me from his screenings and premieres, and finally erupted: "I'm the scariest motherfucker you'll ever have as an enemy in this town!"
Aside from such beratement, Weinstein was also known to "entice journalists and gossip columnists with offers of book and movie deals." (Lisa Bloom, the attorney who was advising Weinstein before her recent resignation, had earned such a deal from her client.) The mogul notwithstanding, however, it seems NBC is sticking to its side of the Farrow story.
If you are a victim or survivor of sexual assault, resources for support are available through RAINN's National Sexual Assault Hotline: 1-800-656-HOPE (4673), or the National Sexual Violence Resource Center.
(Via Huffington Post and The Daily Beast)