After a long Tuesday evening at the Nevada Caucuses, CNN wasted no time as soon as the doors slammed shut. An instant projection revealed how Donald Trump easily knocked out his GOP competitors. The initial projection revealed an easy finish of 42 percent for Trump with a close battle for runner-up to follow. The results are still subject to change, but Marco Rubio's heels nipped behind with 24.3 percent while Ted Cruz took 21.2 percent in third.
These results shouldn't be too surprising. Trump casts a long shadow (even when he's not physically present) in Las Vegas with several real-estate holdings on the strip. This is also Trump's third consecutive win after taking both New Hampshire and South Carolina over the past few weeks. Next up? A Fox News GOP debate (where he will face Megyn Kelly again) on Thursday and Super Tuesday coming up next week. Soon, it may be time to realize that Trump has this GOP nomination in the gold-plated bag.
Trump's victory speech was even more off the hook than his normal vibe. He shouted, "I've invested SO much money in Vegas!" He thanked Steve Wynn and "the evangelicals." He also promised to be "greedy" for the United States, so the country could pull in bags of money and be awesome again. Trump was also "reeeeally happy" to nab a huge percentage of the Hispanic vote even as he mentioned that "Mexico is going to pay for the wall" again. In fact, "they're going to be thrilled to be paying for the wall."
Wow. Let's close this out with a lovely picture of Elvis Presley impersonator Paige Pool, who attended a Trump rally earlier in the day. Vegas, baby. Vegas.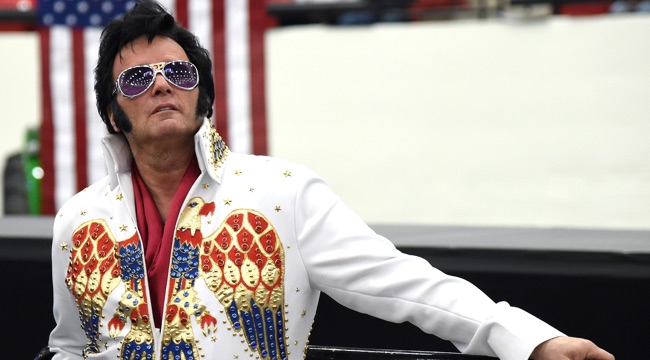 (Via CNN)