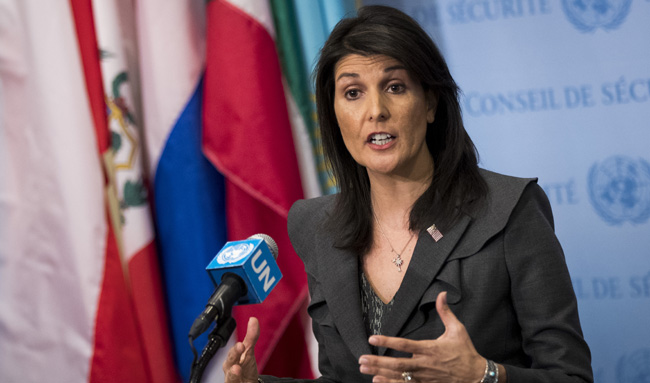 Stormy Daniels isn't the only rumored Donald Trump fling that people are chattering about. U.S. ambassador to the United Nations Nikki Haley became the subject of rumors after Fire and Fury author Michael Wolff spilled some tea on HBO's Real Time with Bill Maher, insinuating that Trump was currently having an affair with someone in the White House.
Although Wolff didn't call out Haley by name, it didn't take long for sleuths to speculate who he was referring to, zeroing in on a single sentence in his book that read, "The president had been spending a notable amount of private time with Haley on Air Force One and was seen to be grooming her for a national political future."
In an interview with Politico's Women Rule podcast on Thursday, Haley finally addressed the rumors which she slams as "highly offensive" and "disgusting."
"I have literally been on Air Force One once and there were several people in the room when I was there," she said in an interview Thursday for POLITICO's Women Rule podcast, referring to a flight from Washington to Long Island in late July. "He says that I've been talking a lot with the president in the Oval about my political future. I've never talked once to the president about my future and I am never alone with him."

"So the idea that these things come out, that's a problem," she said. "But it goes to a bigger issue that we need to always be conscious of: At every point in my life, I've noticed that if you speak your mind and you're strong about it and you say what you believe, there is a small percentage of people that resent that and the way they deal with it is to try and throw arrows, lies or not."
It's worth noting that Haley previously went against the administration by saying that Trump sexual misconduct accusers "should be heard." Wolff did not respond to a request for comment, but honestly, a rumored affair with Haley is probably the least of the problems facing Donald Trump right now.
(Via Politico)