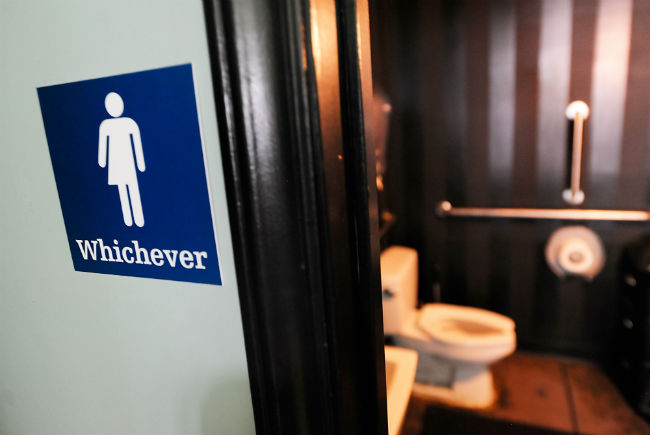 On Thursday, North Carolina passed a bill to repeal its highly criticized bathroom law HB2. The bill passed by both houses of the state's legislatures and now awaits Governor Roy Cooper's signature, who has pushed for the law's repeal after his predecessor, Pat McCrory, refused to budge.
The controversial bill was implemented to require transgender residents to use a public bathroom that aligned with the sex they were assigned at birth, which activists saw as an impediment of LGBT protections. It severely impacted the state's economy in the long term, for reports indicated the state could lose out on $4 billion in revenue if wasn't repealed. North Carolina lawmakers announced Wednesday night that they'd come to a compromise. The new bill passed early Thursday afternoon with a 70-48 vote, and Cooper signaled that he'd sign the new legislation:
"l support the House Bill 2 repeal compromise," Gov. Roy Cooper said. "It's not a perfect deal, but it repeals House Bill 2 and begins to repair our reputation."

"Compromise requires give and take from all sides, and we are pleased this proposal fully protects bathroom safety and privacy," the state's Senate Leader Phil Berger and House Speaker Tim Moore said in a joint statement.
The repeal does repeal HB2, but critics say it doesn't go far enough. The new law blocks non-discrimination ordinances through 2020 and transfers bathroom regulations over to state lawmakers. Human Rights Campaign President Chad Griffin believes it makes the situation worse:
"After more than a year of inaction, today North Carolina lawmakers doubled-down on discrimination. This new law does not repeal HB2. Instead, it institutes a statewide prohibition on equality by banning non-discrimination protections across North Carolina and fuels the flames of anti-transgender hate."
You can read the entire HB2 replacement, which some opponents are calling HB2.0, by clicking here.
UPDATE: CNN reports that Gov. Cooper has made good on his word and signed the HB2 repeal.
(Via CNN, Human Rights Campaign & The New York Times)