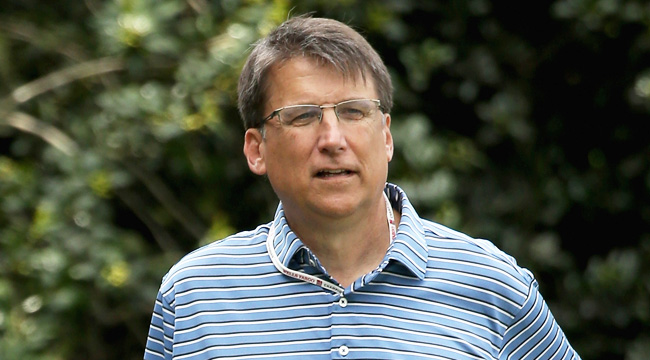 North Carolina Governor Pat McCrory is swiftly becoming a national name, and not in a flattering way but a heavy-handed one. McCrory's most recent unapologetic maneuver involves his alleged tampering with water test rules, but he's most notorious for suing the federal government over his state's anti-LGBT bathroom bill, which has been the subject of his own awkward jokes. And most relevant here is McCrory's recent vow to appeal a federal court's ruling against the state's voter ID law.
The law in question was struck down in late July under the grounds that it was "discriminatory." The ruling shouldn't have been too surprising, as a Democratic three-judge panel found that the state's Republican-controlled legislature violated the Voting Rights Act. The Republicans insisted that the state's voter ID law would combat fraud, but in fact, the judges found that it made the process of voting much harder — "with surgical precision" — for some minority communities. McCrory hasn't yet appealed the ruling, but he's asking the Supreme Court to stay the appeals court's decision:
"Allowing the 4th Circuit's ruling to stand creates confusion among voters and poll workers and it disregards our successful rollout of Voter ID in the 2016 primary elections. The 4th Circuit's ruling is just plain wrong and we cannot allow it to stand. We are confident that the Supreme Court will uphold our state's law and reverse the 4th Circuit."
McCrory's actually using "just plain wrong" as an argument here, which isn't exactly a legal ground. But the fate of North Carolina's law now sits in the hands of the fairly conservative Chief Justice Roberts, so we'll see how this goes. McCrory isn't asking for the entire law to be reinstated in time for the November elections, for he's fine with allowing same-day registration and out-of-precinct voting this year. However, he'd like to restrict early voting to a 10-day period and bar pre-registration votes from 16 year olds. And most importantly, he wants the photo ID requirement back.
Other concerns from the governor include a fear of "irreparable harm" to North Carolina due to confusing, last minute changes in voting procedures. And McCrory also frets that the 4th Circuit has endangered "every voter ID law in the country vulnerable to invalidation as intentionally discriminatory." Since the North Carolina law was found to be discriminatory, well, that could definitely happen.
(Via News & Observer & New York Times)