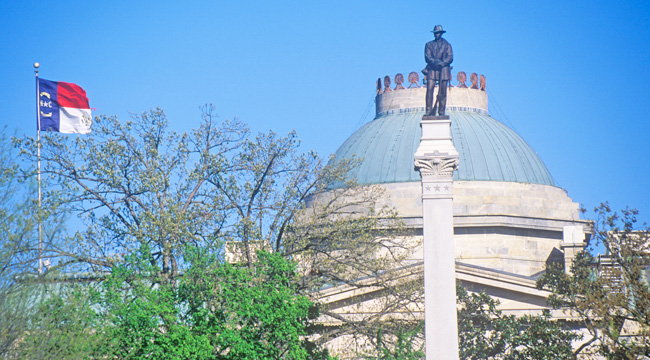 A heated budget battle between North Carolina lawmakers carried into the wee hours of Saturday morning of the state Senate. This ended badly for Democrats, who haven't retained much goodwill from their colleagues despite donating money to rebuild a GOP office that was firebombed last October. (Then again, North Carolina remains in political disarray even after the departure of Republican Governor Pat McCrory, whose beloved anti-LGBT bathroom bill was repealed, only to see the legislature introduce a bill to ban gay marriage.) At the end of this Friday-to-Saturday budget session, funding was gutted for multiple minority schools and a summer program for science, technology, engineering, and math (STEM) disciplines.
The lengthy clash saw Republicans shoot down several Democratic funding proposals. Around 1am, a two-hour recess occurred when Republicans hunkered down with budget staffers while Democrats were relegated to the hallway. When the session began again, a GOP senator pushed an amendment to fund the fight against the opioid epidemic. This program, which cost $1 million, ended up working a surprise effect by defunding several Democratic initiatives including the following:
Sen. Erica Smith-Ingram's rural district in northeastern North Carolina took the biggest hit from the amendment. It strips $316,646 from two early college high schools in Northampton and Washington counties, and it specifically bans state funding from supporting a summer science, math and technology program called Eastern North Carolina STEM.

The Northampton County program has received about $180,000 in recent years to serve 90 high school students, many of whom are African-American and from low-income families. "I don't know what motivated the amendment, but it will have a devastating effect on an area that is already suffering," Smith-Ingram said Saturday, adding that the STEM summer program would shut down if the provision is in the final budget.
Smith-Ingram believes the late-night chaos contributed to this disaster because "nobody knew what they were voting on, it happened so quickly." Not only were valuable education programs slashed, but the GOP amendment also pulled funding to increase fruit-and-vegetable availability in food deserts and revitalize downtown areas in several communities. And possibly in a payback move from McCrory supporters, Democratic Gov. Roy Cooper will lose a staff member who coordinated with the federal government on important matters like hurricane relief funding.
All is not lost yet. The North Carolina house will now have a chance at refunding some of these initiatives with its own proposal. But even if that chamber is successful, legislative leaders will have to go toe-to-toe to reach a final budget agreement.
(Via News & Observer)