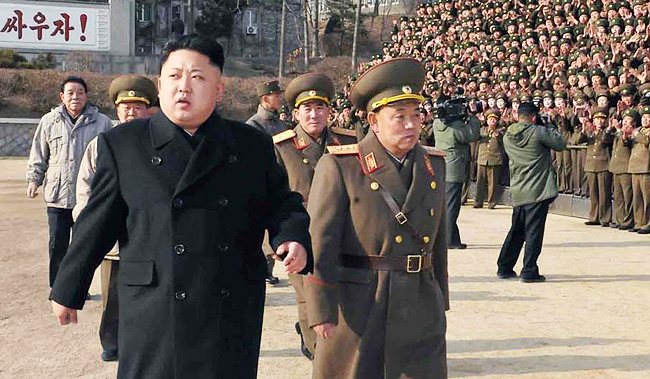 On Tuesday, President Trump filled his speech to the South Korean National Assembly with plenty of weirdness, including a Trump golf course plug. He also bizarrely attempted to educate South Koreans about the history of North Korea, and he didn't forget to include some words to Kim Jong-un. Trump warned the dictator that to "interpret America's past restraint as weakness … would be a fatal miscalculation." The president added that his administration is doing things differently, and he advised North Korea, "Do not try us."
Given that North Korea and Trump generally take turns exchanging threats, it was safe to assume that we'd hear some heated responses from the regime. Perhaps a renewed threat to reduce the U.S. to "ashes and darkness"? Not even close. North Korea expressed indifference to Trump's words, which was unexpected, to say the least. CNN spoke with a Pyongyang official, who stated, "We don't care about what that mad dog may utter because we've already heard enough."
That's more ominous than anything Kim Jong-un or his representatives have ever said about the U.S. or its allies. In fact, it almost makes one wonder if they have something brewing, such as yet another nuclear or missile test. Or perhaps they mean to unsettle Trump while concealing a new strategy? The official then basically said that actions matter more than words:
"The United States is threatening us with nuclear aircraft carriers and strategic bombers. They are challenging us with with the most vicious and demeaning provocations but we will counter those threats by bolstering the power of justice in order to take out the root cause of aggression and war."
North Korea not only referenced the U.S. aircraft carriers near the Korean Peninsula but also those nuclear submarines, which everyone learned about because Trump bragged to Rodrigo Duterte about their existence. And they're vowing to "counter those threats" while also sounding completely over Trump's rhetoric. The new strategy, whatever it is, follows North Korea labeling Trump as a "lunatic old man" (who's intent upon starting a nuclear war) two days ago. No one but North Korea knows what's coming next, but it can't possibly be good.
(Via CNN)