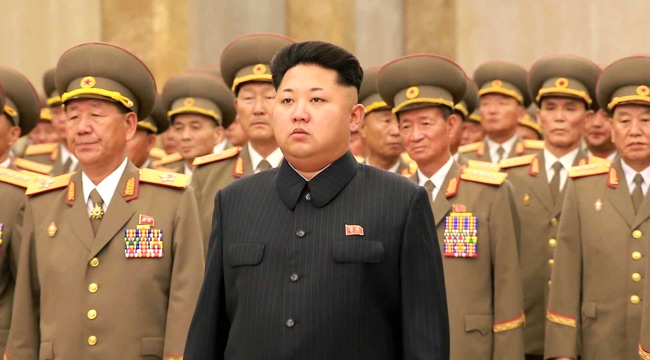 About a week ago, Kim Jong-Un's bloodlust accelerated to the point where North Korea was launching practice missiles towards the Japanese coast, all with the eventual goal of taking out U.S. military bases (of which there are many) in the country. Now, the dictator has warned of "merciless" strikes against a U.S. aircraft carrier that's currently assisting South Korea in military drills. This follows the U.S.' response to North Korea's missile launchings, which was to deploy an antimissile system in South Korea. Now, North Korea is angered by the USS Carl Vinson's presence in the area and has warned of "merciless" consequences:
As the USS Carl Vinson plowed through seas off South Korea on Tuesday, rival North Korea warned the United States of "merciless" attacks if the carrier infringes on its sovereignty or dignity during U.S.-South Korean drills.

North Korea said the arrival of the U.S. strike group in the seas off the east of the Korean peninsula was part of a "reckless scheme" to attack it. "If they infringe on the DPRK's sovereignty and dignity even a bit, its army will launch merciless ultra-precision strikes from ground, air, sea and underwater," the North's state news agency KCNA said.
A carrier commander told the press that the USS Carl Vinson's deployment was a "routine" one, but North Korea certainly doesn't care why the American carrier is present. And Reuters states that F-18 fighter jets have been taking off from the carrier deck "in a dramatic display of U.S. firepower amid rising tension with the North," which accelerated its nuclear plan in the past year.
Meanwhile, a rumor-story is circulating about the Navy SEAL 6 team possibly preparing for a "decapitation attack" against Kim Jong-Un. The Pentagon has swiftly denied the story while insisting that the U.S. "does not train for decapitation missions," but there may be a grain of truth to this. If one assumes that such a "decapitation" isn't meant literally (although that's how the Internet is interpreting it) but in the nuclear-warfare sense, then this would involve the U.S. aiming to take out Kim Jong-Un's weapon capabilities in a first-strike attack. And if this isn't meant in a nuclear context, this would mean that the U.S. aimed to assassinate the dictator. Would the Trump administration go there? Perhaps.
However, if such a strike would fail, Kim Jong-Un wouldn't hesitate to retaliate. If this plot truly existed — and it's not out of the realm of possibility — you'd think that the U.S. military would keep that sh*t locked down, right?
(Via Reuters & Business Insider)