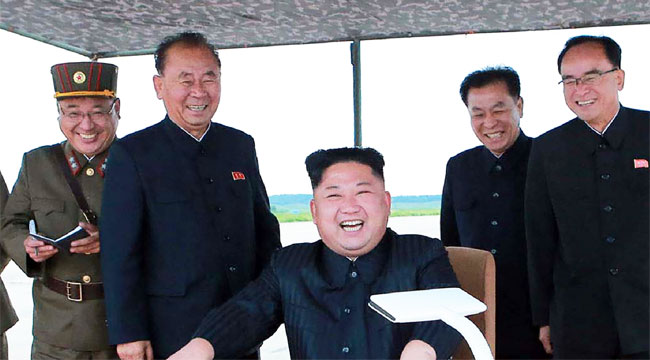 Earlier this month, North Korea decided to step back from its war of words with President Trump (because there's nothing more terrifying than indifference), but Kim Jong-un certainly hasn't put the brakes on his bloodlust. Only a few months ago, his regime developed the capability to strap mini-nukes onto long range missiles that could theoretically come close to the U.S. The New York Times now reveals that the nation has hunkered down to focus energy upon advancing its nuke and missile capabilities, which could result in a nuclear-tipped long range missile (that could reach the U.S. mainland) by early 2018.
That's the word from a senior South Korean official, Cho Myoung-gyon, the unification minister who's been closely involved in monitoring North Korea's missile program. Mr. Cho notes that Pyongyang hasn't conducted any actual missile tests since mid-September, but activity at testing sites has indicated that progress is ongoing, including "missile-related activities, such as engine and fuel tests." North Korea has been claiming long-range capability for much of 2017, but South Korea fears that the regime's recent low-key practices mean (according to Cho) that quiet progress is being made:
"They still need to clear technical hurdles in long-range missile technologies, including the re-entry know-how. Some experts have said it will take them two or three years, but we also need to note that the North has been developing its technologies faster than expected. I would not be surprised if the North declares it has completed its nuclear arms capabilities next year, which is a landmark year for the country, with its government set to turn 70."
North Korea loves to symbolically celebrate major anniversaries with weapons tests, so yes, 2018 could bring big, bad news.
Indeed, Reuters notes word from a Japanese government representative, whose nation has "detected radio signals" that could point toward an impending missile test, although the signals could easily be related to regular winter military drills. Yet the general consensus by Far East officials is that it's only a matter of time before North Korea returns to multiple monthly tests and once again fires missiles over Japanese islands where the U.S. conducts military tests. Never a dull moment, even when things might seem dull, right?
In other horrific and potentially related news, CNN reports that four ghost ships — some with skeletons on board — have washed up on Japan's west coast throughout November, and "signs suggest" that they hail from North Korea and weren't as fortunate as a military defector who will live to tell his tale.
(Via New York Times, Reuters & CNN)