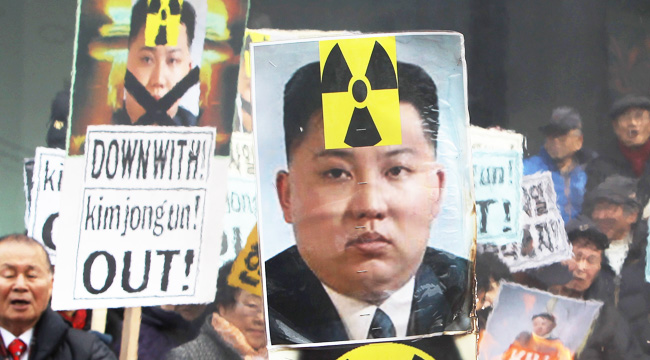 If there's one positive aspect to the onslaught of North Korea news out there, it's that the American public is receiving a break from the Russia thing. Yet that's no consolation when the prospect of nuclear war is involved. The newest development takes place after a full day of diplomatic mud-slinging, which followed Pyongyang's declaration that it could strap nukes inside long-range missiles — prompting Trump to unleash "fire and fury" if North Korea didn't chill out. In response, Kim Jong-un decided he wanted to strike the U.S. territory of Guam, and CNN reports that he's not far away from this goal.
Apparently, the plan is disconcertingly close to fruition, as Kim Jong-un anticipates being able — within days — to review his nation's ability to fire four missiles that would land mere miles off the coast of Guam (and well within its exclusive economic zone). This easily qualifies as North Korea's most achievable threat on a U.S. territory, and the numbers aren't good:
The intermediate-range missiles would be fired east and over Japan before landing around 30 to 40 kilometers (18 to 25 miles) off the coast of the tiny island if the plan is implemented, according to state-run KCNA. Guam is more than 3,000 kilometers from North Korea.
The Associated Press is providing ongoing updates on the situation and reports some more digs on behalf of Kim Jong-un against Trump. He's reportedly grumbled about how Trump is "extremely getting on the nerves" of his regime. And he's called Trump "senile" while saying that "sound dialogue is not possible with such a guy bereft of reason." Of course, Trump is also tossing the same insults at Kim Jong-un, and the war of words is growing somewhat ridiculous at this point.
Finally, Japan claims that it would be able to intercept any missiles headed in Guam's direction. Japanese Defense Minister Itsunori Onodera even declared that his country will defend any and all U.S. territories as a "Japanese national emergency," for a threat against one of its allies is also a threat against Japan. So, there's something positive! Now back to the panic channel.