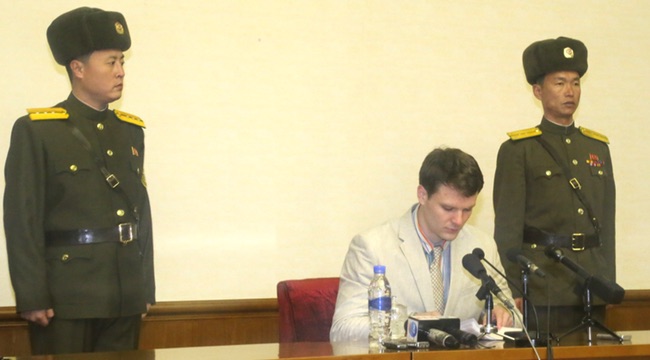 North Korea makes a lot of outlandish claims (many of the fun and zany variety), but occasionally, something turns out to be true. This story happens to involve a very serious claim that the country made in January, when they publicized the arrest of a University of Virginia student for a "hostile act." Ohio native Otto Warmbier made the unfortunate decision to take a New Year's vacation in the land of Kim Jung-un. He never returned, and the student's travel agency contacted his family after he was taken into custody.
Details were murky, but North Korea indeed detained Warmbier. The country alleged that the student plotted (as part of a U.S. spy mission) to destroy the "unity" of the Democratic People's Republic of Korea. Some suspected that Warmbier's arrest had plenty to do with the UN's consideration of harsh sanctions after North Korea defiantly conducted nuclear tests. Whether or not this political testiness was related to Warmbier's arrest, no one knows, but he's shown here speaking at a March 1 press conference.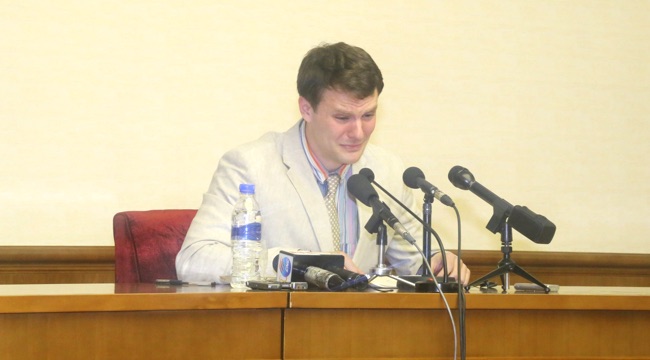 Warmbier admitted accepting a church-group dare to nab a souvenir, so he stole a political banner from a hotel and got arrested. He is quoted as saying this was the "worst mistake" of his entire life. On Wednesday, things grew more dire when North Korea's Supreme Court charged him with subversion and convicted him after a one-hour trial. The government dealt him an extremely harsh sentence — 15 years of hard labor — more severe than previous punishments dealt to foreigners, which almost surely points towards increased political tensions as the cause.
As of Tuesday, a U.S. troubleshooter and humanitarian attempted to secure Warmbier's return before the trial to no avail. Likewise, Ohio Governor John Kasich previously asked President Obama to do everything possible to secure the student's release. Months have passed since Kasich's request, and now Warmbier stares down a frightening fate.
(Via Washington Post, New York Times, and Sydney Morning Herald)