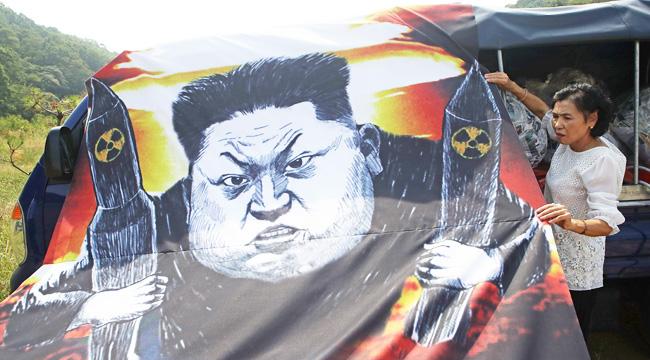 Donald Trump's missile strike on a Syrian air base was a largely symbolic one. Russia was warned beforehand, and the Kremlin must have warned Syria, which was able to largely evacuate the premises. Further, the strike didn't disable the airbase (Syrian warplanes took off from the base hours later as Assad ordered new attacks on the same town struck by the chemical attack). The strike angered Russia, which called the U.S. strike an "act of aggression" and sent a warship back into Mediterranean waters. The Trump strike is also stirring up existing U.S.-North Korean tensions in multiple ways.
Some analysts believe that Trump's strike against Syria was meant as a message to Kim Jong-Un: "[T]he U.S. has a new sheriff in town who isn't hesitant about pulling his gun from the holster." As corny as this sounds, the U.S. also sent a carrier-led strike group toward the Korean Peninsula on Saturday night. The U.S.S. Carl Vinson strike group is said to have deployed "in response to recent North Korean provocations."
NBC News spoke with Admiral Harry Harris, the commander of U.S. Pacific Command, who reveals that North Korea has already called the U.S. "reckless" and vowed to take defensive actions:
The U.S. official said the strike group will provide a show of presence in the region. Since March, North Korea has twice carried out ballistic missile tests in defiance of United Nations resolutions. It has also conducted five suspected nuclear tests, including two last year.

Within hours of the U.S. announcement, North Korea vowed to boost its defenses. A foreign ministry official told the country's state-run news agency that recent U.S. airstrikes on Syria proved that it needed to protect itself against Washington.
On Sunday, Fox News quoted a North Korean Foreign Military official who expressed continuing anger over the Syrian strike, which Kim Jong-Un reportedly considers "absolutely unpardonable" and evidence that his nuclear development is necessary.
This exceedingly brief Sunday morning Fox News clip reveals how North Korea also considers the carrier move to be "American aggression." Jim Hanson, the VP for the Center for Security Policy, told Fox and Friends to beware: "Kim is the craziest in the line of Kims." (What a tagline….)
FOX NEWS ALERT: North Korea vows to defend itself over what it considers 'American aggression' pic.twitter.com/B16HbZsv6X

— FOX&friends Weekend (@ffweekend) April 9, 2017
(Via NBC News, CNN, Fox News & Daily Mail)