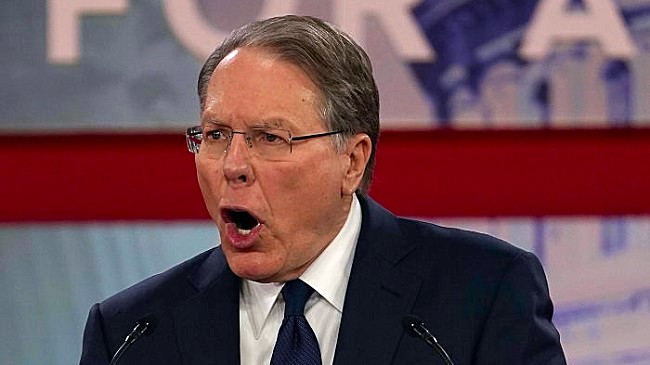 Between a retired Supreme Court justice's call to repeal the Second Amendment following Saturday's "March For Our Lives" events and the never-ending Russia investigation(s), the National Rifle Association doesn't have too many supporters beyond its five million members. And whether or not its otherwise sturdy lobbying base will hold may depend on the results of an FBI investigation into the group's supposed laundering of Russian money into Donald Trump's presidential campaign during the 2016 election. For on Tuesday, the NRA admitted to receiving "foreign funds" regularly, but denied getting any from Russia.
According to NPR, the organization "acknowledged that it accepts foreign donations but says it does not use them for election work" in a letter concerning the FBI investigation, which was first reported by McClatchy in January:
"While we do receive some contributions from foreign individuals and entities, those contributions are made directly to the NRA for lawful purposes," NRA's General Counsel John C. Frazer wrote to [Sen. Ron Wyden] in a letter obtained by NPR. "Our review of our records has found no foreign donations in connection with a United States election, either directly or through a conduit."
Frazer went on to say that the NRA "received money from companies based in the U.S. which may be owned or managed by foreign nationals," but "none of those entities or individuals is connected with Russia, and none of their contributions were made in connection with U.S. elections." This can actually be tracked when it concerns the NRA Political Victory Fund, the group's political action committee, as it must report everything to the Federal Election Commission. However, less transparent accounts that owe nothing to the FEC also "receive funds from foreign persons only for purposes not connected to elections."
Such transactions are "permitted by federal law," per another one of Frazer's letters to the Democratic senator from Oregon. However, the NRA general counsel did admit that the organization will often move money between accounts, noting that "transfers between accounts are made as permitted by law." Even so, the NRA is still insisting that despite receiving foreign money, none of it was (1) from Russia or (2) used to influence the 2016 presidential election in Trump's favor.
(Via NPR)