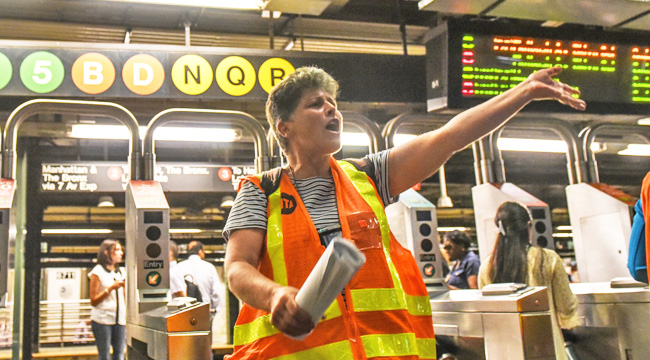 The New York City subway has been having a moment this summer. Near-constant delays caused by power outages and increased ridership and subsequent derailments have gotten New Yorkers en masse to complain to both New York City Mayor Bill de Blasio and Gov. Andrew Cuomo, hoping the two would end their feud and fix the creaking transportation system.
MTA head Joe Lhota unveiled some short-term fixes for the subway Tuesday, including removing seats from certain cars on certain lines in an effort to cram more customers onto trains and adding police to stations to enforce anti-littering statutes. Gov. Cuomo has also announced an influx of funds to help the MTA but is bickering with Mayor de Blasio about that, too.
It's not clear how all of that plan will be paid for, but Gov. Cuomo announced that a portion will come from corporate sponsorship of individual stations. In exchange for "at least $600,00 [sic] for upkeep," sponsors will be receive naming rights, similar to the state's Adopt-A-Highway program.
Sponsorship and naming individual stations isn't unprecedented. In 2009, before the Barclays Center arena was opened, the Atlantic Ave-Pacific St. station, a major hub in Brooklyn, was renamed Atlantic Ave-Barclays Center, after the city reached a deal to receive $200,000 a year from the company for 20 years.
The details of the program are still being worked out, but what's not clear is how stations would be affected. It's easy to see corporations fighting over the naming rights for major stations and making maintenance improvements, leaving the outer borough stations in a lurch, similar to how some city parks have mega-donors while others are at the mercy of the Parks Department.
(Via New York Post)