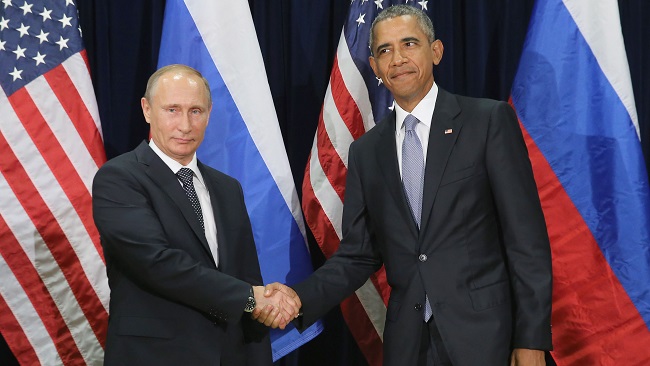 Despite the controversial results of the U.S. intelligence report released on Friday, President-elect Donald Trump and his surrogates have maintained a rather cautious — if not downright accusatory — stance regarding Russia's alleged attempt to influence the election. Yet none of this prevented President Barack Obama's administration from levying severe sanctions against Vladimir Putin's government and dozens of its former U.S.-based operatives. While unrelated, it didn't deter the Treasury Department's plans to blacklist five Russian officials with ties to Putin's regime either, as revealed by the New York Times on Monday.
The five Russians in question include Head of the Investigative Committee and Putin aide Aleksandr I. Bastrykin, intelligence officers Andrei K. Lugovoi and Dmitri V. Kovtun, as well as Stanislav Gordievsky and Gennady Plaksin. Among other things, per to the NYT, Bastrykin was allegedly "complicit" in the death of Russian lawyer Sergei L. Magnitsky in a Moscow prison. As it turns out, the very law being employed by the Treasury Department to investigate and sanction Bastrykin and his four fellows was named the Magnitsky Act in the deceased's honor in 2012:
Under that 2012 law, which was passed by Congress with Democratic and Republican support, the Treasury and Justice Departments must investigate and sanction Russian individuals who were involved in that case and subsequent cover-ups, or in other cases of human rights abuses.

The sanctions to be imposed on Monday include a ban on travel to the United States and a freezing of any assets held by American financial institutions or transactions with those institutions.
To illustrate the five new blacklistees' disconnection from the previous Russian sanctions, the NYT notes 15 other Russian individuals and companies were sanctioned by the Treasury Department before the holidays for their involvement Crimea and Ukraine. Yet Bastrykin and the other four officials' blacklistings are causing a stir due to the accusations levied against the individuals named — and the announcement's closeness to inauguration day.
After all, Lugovoi and Kovtun are the same two men who poisoned fellow Russian spy Alexander V. Litvinenko in London in 2006. As for Gordievsky and Plaksin, the two lesser-known figures were apparently involved in the cover-up of Magnitsky's mysterious death in prison.
(Via New York Times)