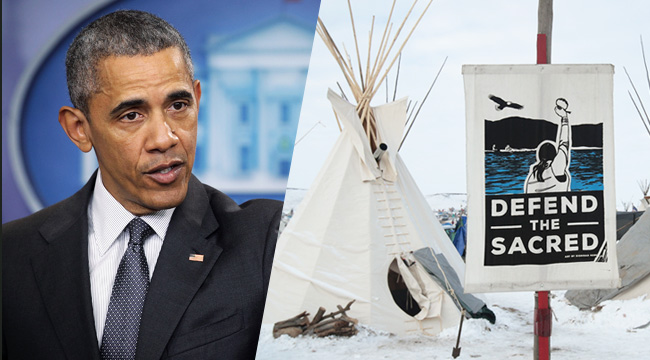 On Sunday, thousands of veterans flooded into the Standing Rock protest site to stand in solidarity with the largest tribal gathering in over a century. The gatherers aimed to protect sacred sites and the Missouri River water supply from the Dakota Access pipeline. And shortly after the veterans' arrival, protesters received some unexpected — and highly welcome — news ahead of Monday's mandatory evacuation deadline.
A live MSNBC report announced that the pipeline's final permit (involving an easement to continue construction) would be denied by federal officials.
NBC News in Washington D.C. adds details from Standing Rock Sioux Chairman Archambault, who announced to protesters that the easement for the pipeline's proposed route had been cancelled. He expressed gratitude:
"I am thankful there were some leaders in the federal government that realized something was not right even though it's legal. For the first time in Native American history, they heard our voices. This is something that will go down in history and is a blessing for all indigenous people … We wholeheartedly support the decision of the administration and commend with the utmost gratitude the courage it took on the part of President Obama, the Army Corps, the Department of Justice and the Department of the Interior to take steps to correct the course of history and to do the right thing."
The news was further confirmed by the Army Corps of Engineers, which revealed plans for a review to determine whether the pipeline can reroute and avoid crossing the Missouri River: "Although we have had continuing discussion and exchanges of new information with the Standing Rock Sioux and Dakota Access, it's clear that there's more work to do." In other words, the war isn't over (the Trump administration may be able to overrule the decision), but one major battle has been won.

This video shows the initial reaction from some Standing Rock protesters before the news was confirmed by mainstream media.
BREAKING: The easement is going to be canceled. #NoDAPL pic.twitter.com/3UWOXMiEtG

— People For Bernie (@People4Bernie) December 4, 2016
Actor Matt McGorry, who visited Standing Rock on multiple occasions, posted the full letter from the Army Corps of Engineers.
Reverend Lennox Yearwood recently spoke with us about protesters' motivations. He happily announced the retirement of his #NoDAPL hat.
(Via NBC Washington & MSNBC)