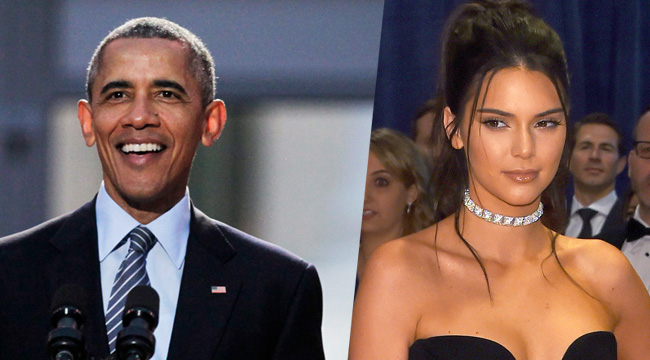 At his last White House Correspondents Dinner, President Obama brilliantly roasted Donald Trump, Hillary Clinton, and Bernie Sanders. And he also roasted Kendall Jenner, who was inexplicably invited to Nerd Prom this year.
According to Entertainment Weekly, Obama said this about Jenner:
"Kendall Jenner is also here. We had a chance to meet her backstage and she seems like a very nice young woman," he said. "I'm not exactly sure what she does but I am told that my Twitter mentions are about to go through the roof."
Heh, I think she got off easy with that one. During their backstage meeting, Jenner recalls in as few words what Obama said to her: "He was like, 'Say hi to Kim and Kanye… I was like 'Okay.'"
Lol, Okay. Also I think we now know why Jenner was invited to this event. It was to broker an end to the coldest war since the–well–actual Cold War, between President Obama and Kanye West. If you don't recall, this intractable geopolitical conflict started after he interrupted Taylor Swift at the VMAs, and continued when Kanye claimed that the two were close, and Obama said that he definitely didn't have the rapper's home number.
So, rejoice America, for our national nightmare is now over, at least until November anyway. ;)
(via Entertainment Weekly)