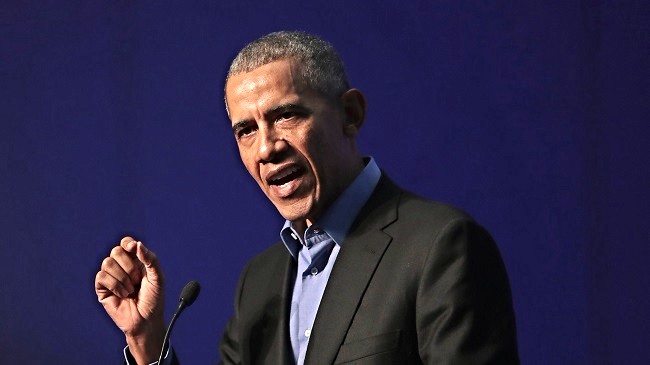 Between declaring that more women are needed in positions of power "because men seem to be having some problems" and garnering three of the top nine retweeted tweets of 2017, which is three more than Donald Trump, President Obama is still here. The former Illinois senator proved this once again on Tuesday when, while speaking at an Economic Club of Chicago event, he indirectly cited Nazi Germany while discussing the future of American democracy. "You have to tend to this garden of democracy, otherwise things can fall apart fairly quickly," he told the crowd. "And we've seen societies where that happens."
According to CNN, Obama then — without directly referencing World War II-era Nazis or German politics of the '30s and '40s — delved into a brief comparison between the time and politics in the United States today:
"Now, presume there was a ballroom here in Vienna in the late 1920s or '30s that looked and seemed as if it, filled with the music and art and literature that was emerging, would continue into perpetuity. And then 60 million people died. An entire world was plunged into chaos," Obama said. "So you got to pay attention — and vote."
Aside from the obvious overtures to the white nationalist, white supremacist and neo-nazi sentiments the first year of Trump's presidency has invoked, Obama also offered a similarly biting critique of his own politics and political heroes:
"FDR is one of my political heroes. In my mind, the second greatest president after Lincoln. … But he interned a bunch of loyal Japanese Americans during World War II. That was a threat to our institutions," he said. "There have been periods in our history where censorship was considered OK. We had the McCarthy era. We had a President who had to resign prior to impeachment because he was undermining rule of law. At every juncture, we've had to wrestle with big problems."
You can watch Obama's remarks below in a Facebook video captured by an attendee at the Economic Club of Chicago event.
(Via CNN)