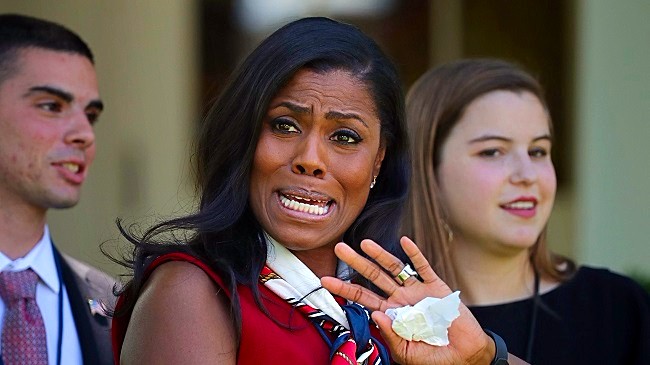 In September, a scathing report claimed that Omarosa Manigault, the former Apprentice villain turned White House staffer, was one of the "most despised" people within President Trump's administration. At the time, anonymous officials and aides revealed much of their ire for the inexperienced director of communications for the Office of the Public Liaison concerned her unprofessional demeanor during meetings. According to a new story out at Politico, however, it seems some of the staff's annoyance might have had something to do with a surprise bridal photo shoot that saw Omarosa banned from the West Wing.
Apparently the bride-to-be, who ultimately married Florida pastor John Allen Newman at the Trump International Hotel in D.C., thought her position gave her clearance to have bridal photos taken on the White House grounds:
[She] brought members of her 39-person bridal party to 1600 Pennsylvania Avenue for an extended wedding photo shoot, catching fellow senior aides and some security officials by surprise in her bridal attire. They loudly wandered around, looking to snap photos in the Rose Garden and throughout the West Wing, according to four current and former White House officials..
Whether or not she actually received permission for the photo shoot remains unknown. However, most staffers "were not briefed in advance," which resulted in Omarosa's being banned from the West Wing and posting any of the photos online due to "security and ethical concerns." The incident also "did little to help the reputation of the Office of Public Liaison," which many in Trump's White House see "as one of the most unruly and under-utilized operations in the West Wing." Even Sarah Sanders went so far as to say "the [office's] early months were not as smooth as they could have been."
(Via Politico)