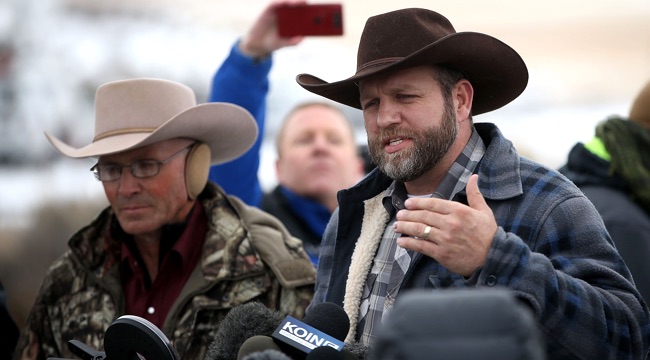 Yes, Ammon Bundy and his pals (with LaVoy Finicum on the left up there) are still hanging out in the Oregon wilderness where they (literally) rule the roost at a bird sanctuary. Can you imagine how trashed that place must be right about now? Two weeks of #YallQaeda and #VanillaISIS can't be kind to any building's structure. Especially when their wishlisted toilet paper gets pushed back in favor of bags of d*cks and lube care packages.
So far, the occupation led to one protester arrest when Kenneth Medenbach was caught joyriding in one of the Malheur National Wildlife Refuge vehicles. Authorities managed to book him into jail on a felony charge (up to 5 years in prison), but the other dudes are enjoying the free use of federal property. They're not happy about the crappy gifts people are sending, and Finicum — as the notorious #Tarpman of the bunch — was really upset about leaving his cows behind.
Indeed, Jon Ritzheimer (the man who hurled those dildos) famously left his family a goodbye video and wrote on Facebook that he gave up Christmas with his kids to stake a stand against tyranny and work hard by "selflessly sacrificing to take a stand." #DaddySworeAnOath, but what is daddy doing besides playing war with his buddies in Oregon?

Well, #TarpMan is a daddy too, and he left his foster children with his wife in Arizona. The state has now removed all four kids from the home (under "pressure from the feds"), and Finicum spoke with Oregon Public Broadcasting to bemoan the loss. Finicum is upset about losing the children, but he seems more concerned about the money they represent:
"My ranch has been a great tool for these boys. It has done a lot of good … They were ripped from my wife. We are very successful (foster parents). Our track records are good, it's been a good relationship. (Federal authorities) must have gotten to the governor, who told the state to get them out of there.

"That was my main source of income. "My ranch, well, the cows just cover the costs of the ranch. If this means rice and beans for the next few years, so be it. We're going to stay the course."
Finicum arranged with Catholic Charities to care for these children, which he's been doing for decades as a job. The charity hasn't taken away his license, but Finicum won't be given referrals for any more fosters. All told, this loss represents over $115,000 per year in income. Finicum and his wife cared for up to eight children at a time, and this guy actually did some good for displaced youth. We don't know authorities' motivations behind the removal, but Finicum seems to think this militia business is worth everything: "I hope people are seeing the sacrifices we're making here."

Now Watch: Here's What You Need To Know About The Standoff In Oregon