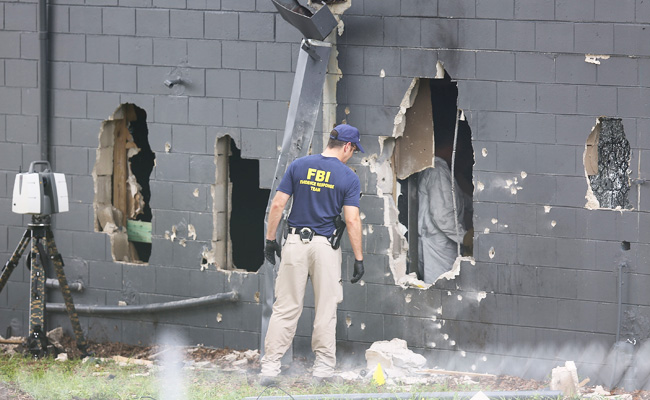 This photo shows an FBI agent examining the rear wall at Orlando's Pulse nightclub after the deadliest mass shooting in U.S. history. Sunday morning's horrific massacre left 50 people dead at least that many injured. The gunman, Omar Saddiqui Mateen, may have been motivated by anti-LGBT hate according to his father. He reportedly took hostages as he attacked with an assault rifle and handgun. Authorities stormed the club and killed Mateen, but before that happened, text massages revealed the horror within the building. In fact, some texts helped police understand the scope of the massacre, which surely helped them plot out a plan of action.
What went on inside the nightclub seems unimaginable, including a live CNN report from one young woman who describes covering herself with dead bodies. Another harrowing account comes from a mother, who revealed her son's texts from inside the club. WFTV in Orlando aired footage that shows someone scrolling through the messages, which begin with "Mommy I love you." The texts continue with an indication that shots are being fired as the shooter advances though the building.

A number of messages continue to describe the terror before the last message, which reads, "He's coming, I'm gonna die." No one knows whether this witness survived the massacre, but such information wouldn't make the incident any less chilling.
You can see the video footage of the texts below.