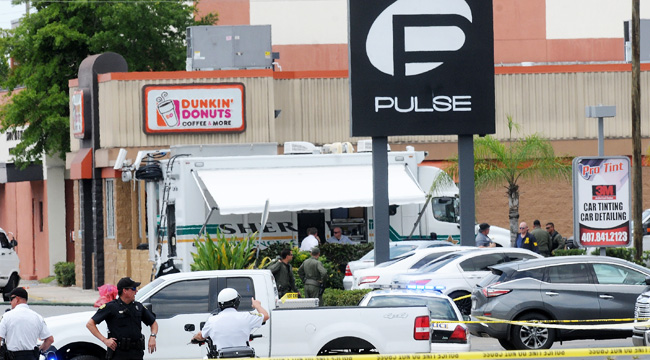 In the wee hours of Sunday morning, an Orlando nightclub became the scene of a mass shooting with at least 50 dead. To date, this is the largest mass shooting in U.S. history, and authorities were swift to consider it "an act of terrorism." We now know that the shooter, Omar Mateen, armed himself with an assault weapon and a handgun. He also carried an explosive device that was removed through controlled detonation. The death toll could have been even higher if not for the swift reaction from authorities.
Mateen's true motive appears to be muddled, and the coming week will surely see a rash of new developments. Obama described the act as one of both "terror and hate." Mateen's father quickly revealed that his son was disturbed by gay men kissing. And finally, ISIS hopped up to claim responsibility, but it's still too early to know whether the Islamic State organized the massacre. Authorities will continue to investigate even as Donald Trump congratulates himself on knowing everything about this tragedy.

At times like these, the internet comes together with an outpouring of support. This time, people can't understand how such violence continues even in the face of vigilance. Jon Kortajarena wonders why gun rights activists would rather see men holding weapons instead of holding hands.
The rest of Twitter filled itself with supportive and saddened memes.
Some people don't see the value in coming together on social media, but clearly, it's a valuable means of coping during tragedies like these. Sadly, the frequency of such events only appears to be accelerating as time passes.