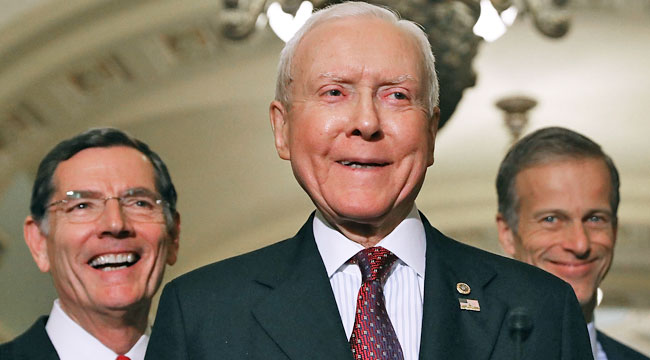 Senator Orrin Hatch (R-UT), who may or may not be departing from the Senate in 2018 (with Mitt Romney reportedly salivating over his seat), won't be missed by the Salt Lake Tribune if he decides to retire at age 83. The paper named him their "Utahn of the Year" and explained the choice in a blistering piece by the editorial board, which made clear that they were not bestowing him with the "honor" due to his longevity on Capitol Hill. Instead, the newspaper gave Hatch the title while calling upon him to leave office. The board also said he deserved to be called out for meeting the following criteria:
It has everything to do with recognizing:

Hatch's part in the dramatic dismantling of the Bears Ears and Grand Staircase-Escalante national monuments.
His role as chairman of the Senate Finance Committee in passing a major overhaul of the nation's tax code.
His utter lack of integrity that rises from his unquenchable thirst for power.
Clearly, the pieces were lost upon Hatch, who must only read headlines because he tweeted a screencap from the paper while stating that he was "grateful for this great Christmas honor."
'Twas both an amazing and painful sight to behold. Dan Zak of the Washington Post was quick to call out Hatch's apparent lack of reading comprehension skills, especially regarding the "unquenchable thirst for power" line.
The famed "ratio effect" quickly took hold, as Hatch received many more replies than retweets and favorites, and the occasional user pinned a conspiracy to this weirdness. That is, some wondered if Hatch only shared a screencap (and not a link) in order to shine a falsely favorable light upon himself.
Yet most people simply couldn't stop shaking their heads and laughing because, yes, Hatch probably assumed he was being praised.