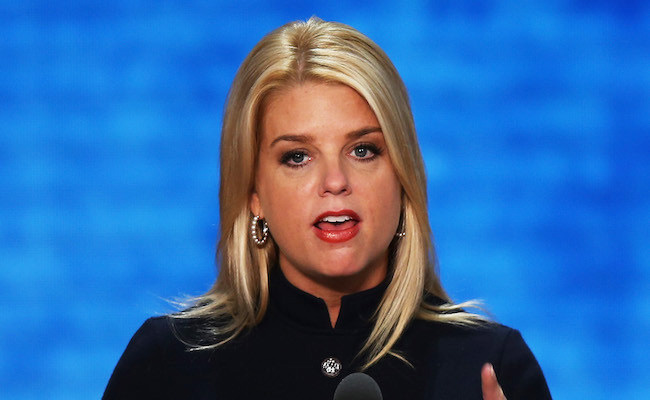 Florida Attorney General Pam Bondi, who has come under fire in recent weeks for not disclosing a 2013 political donation from Donald Trump while investigating Trump University, has further broken her silence regarding the issue. Bondi said she has no regrets for taking the donation and hinted that because there was no investigation, she didn't do anything wrong.
Bondi, who is a supporter of Trump, has mostly kept quiet about the situation, even as more details of the contribution have been uncovered. It had been reported that Bondi and her office were investigating complaints about Trump University in 2013, but that investigation reportedly stopped after her campaign accepted a $25,000 donation. But what creates more intrigue in this story is Trump held a fundraiser for her not too long after the university investigation was closed. There was no investigation when Bondi accepted the contribution, and she has maintained she wouldn't let a donation of this size affect the judgments of her office:
"I just knew there was nothing improper. I will never let money from anyone affect what I do. I'm proud of my office. I'm proud of the work that we do. I would never, ever trade any campaign donation — that's absurd — for some type of favor to anyone."
The Trump campaign maintained there was some initial confusion about the donation, for which the Donald quietly paid an IRS fine for, but both the campaign and Bondi have not spent too much time talking about it. When asked why she wouldn't just give the donation back, Bondi scoffed at the notion, feeling it would create more controversy:
"If I had returned it, you would have reported, 'Bondi accepted bribe, got caught, and returned it.' There was nothing improper about it, so there was no reason to return it."
Bondi said she will not be resigning from office and feels her credibility is still intact. But further complicating and confusing matters is that it was originally reported she tried to give the donation back, but Trump resisted. The donation has become a massive cause of controversy, but that's about normal for this election cycle.
(Via The Tampa Bay Times)