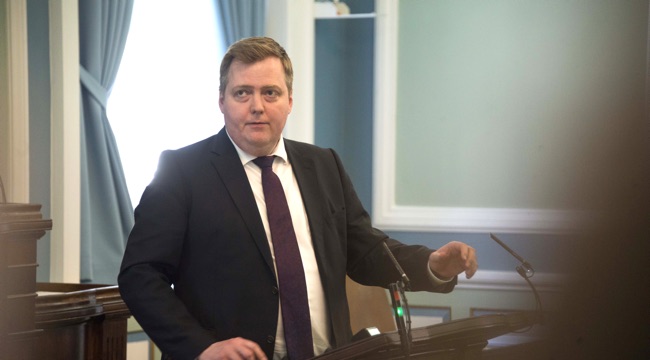 After the "Panama Papers" dropped with a wallop, folks are side-eyeing many world leaders for their (alleged) shady financial dealings. The International Consortium of Investigative Journalists plans to reveal more clients of the Mossack Fonseca law firm in May. However, some significant damage has already occurred to one leader whose citizens are revolting. Icelandic Prime Minister Sigmundur David Gunnlaugsson has come under scrutiny for fraudulent practices, including evasively offloading an offshore company to his wife for $1. The leaked documents also say he concealed million-dollar investments to avoid taxes.
Subsequently, some Icelandic parliament members have requested a snap election, which could discharge a PM before a scheduled vote. Masses of protesters also gathered outside Alþingi (national parliament) on Monday to call for Gunnlaugsson's resignation. The below images are unbelievable, and while an online petition has gathered 28,000 signatures to call for an ousting, these photos may hint at as many people, which (as Edward Snowden points out) represents a huge chunk of the country's population.
On Monday evening, the atmosphere outside Alþingi lit up with a fiery glow. These folks not are backing down from their cause.
Likewise, Gunnlaugsson is refusing to resign at this point, but another protest is scheduled for Tuesday night.
Here's a time-lapse video of the crowd building in front of the Parliament House on Monday.