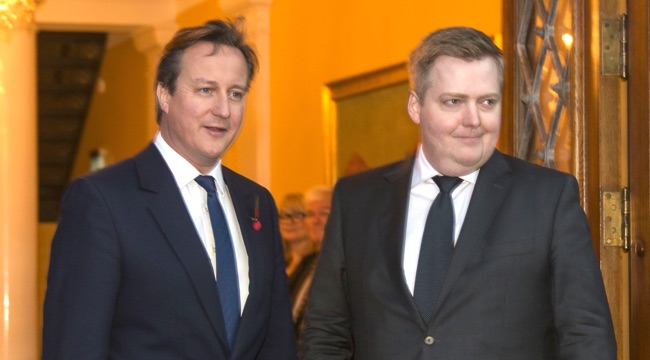 The people have spoken, and one world leader has faced the music. Icelandic Prime Minister Sig­mund David Gunn­laugs­son (shown here in 2015 with his British counterpart, David Cameron) has vacated his position. This decision follows a day filled with fiery protests after the PM's shady offshore dealings were revealed in the "Panama Papers." Ironically, Cameron finds himself somewhat embroiled in the scandal as well after his late billionaire father popped up as a tax-shielding client of law firm Mossack Fonseca. While Cameron cannot be held accountable for his father's actions, the British media is showing their prime minister no mercy and warning him not to dismiss the implications of this scandal. Politically speaking, this could get uglier for Cameron if family funds are situated in undesirable places.
Meanwhile, Gunn­laugs­son first appeared to be in denial after his own tax-related data leaked. Citizens of Iceland weren't about to sit back and tolerate hidden million-dollar investments. They flooded the courtyard and streets leading to parliament and demanded the Prime Minster's resignation. This act (and the threat of snap election from other parliament members) was so overwhelming that Gunn­laugs­son had no choice. The Reykjavik Grapeline nabbed early word of the prime minister's resignation:
Minister of Agriculture and Fishing Sigurour Ingi Johannsson told RUV just moments ago that Gunn­laugs­son has resigned as the Prime Minister. This move still needs the approval of the Independence Party, and the President, before being official.

Gunn­laugs­son will remain on as chairperson of the Progressive Party, and Sigurour Ingi will take his place as Prime Minister. Sigurour said that they want to continue their partnership with the Independence Party, and do not recommend early elections at this time.
From the very beginning, this scandal was a global affair, and there could be further topplings. China has attempted to ward off the entire issue by banning the Panama Papers from websites, for "relatives of at least eight current or former members of China's top ruling body" emerged in the leak. Also, the International Consortium of Investigative Journalists will reveal more firm clients in May. Will we see American names on the list?

Meanwhile, Twitter has a few suggestions about who would make the ideal Icelandic prime minister.
(Via Reykjavik Grapeline, The Guardian and ICIJ)